We're an affiliate
We hope you love the products we recommend! Just so you know, when you click and buy through links on our site we may earn an affiliate commission at no extra cost to you. Thank you if you use our links, we really appreciate it!
My passion for biophilic design inspires our Friday Finds this week; Healing sounds of Nature brought to you by AROMEO SENSE. Personally ,Nature is a love letter from the Creator; It's a reflection of His abundance, healing, and love for us. It serves as a reminder to us of Eternity and the infinite abundance available to us in this life other than our limited selves. Moreover,scientific studies have proved Nature's ability to heal, and restore as well as it's great contribution to our wellbeing. Thus our living spaces should be inclusive of the natural environment. And, it's important we find innovative ways to bring the 'outdoors in'.
Nature's Healing Sounds By AROMEO
This is a brand that celebrates innovation and a love for nature.Imagine sleeping and waking up to the soothing sounds of birds chirping or the calming ocean….Way better than your alarm clock right?
Lets just say, the Times have changed; You dont have to drive all the way to the beach or take a hike in the forest to experience the calming sounds of water waves or the wind blowing through your hair. You can indulge yourself right in your living space.
And thats not all ..You can smell it too. The AROMEO SENSE is a smart sensory device that creates ideal relaxing environments; Using Aroma, light, and sound therapy. A delight for the lovers of Nature and Innovation
It adapts and transforms with your day to create different atmospheres in the same room.
That means you can transform your space to any atmosphere and travel to any destination in the world without living your room. You can also bring your senses on a journey to sleep under the starry sky or get your creative juices going with a refreshing woody scent.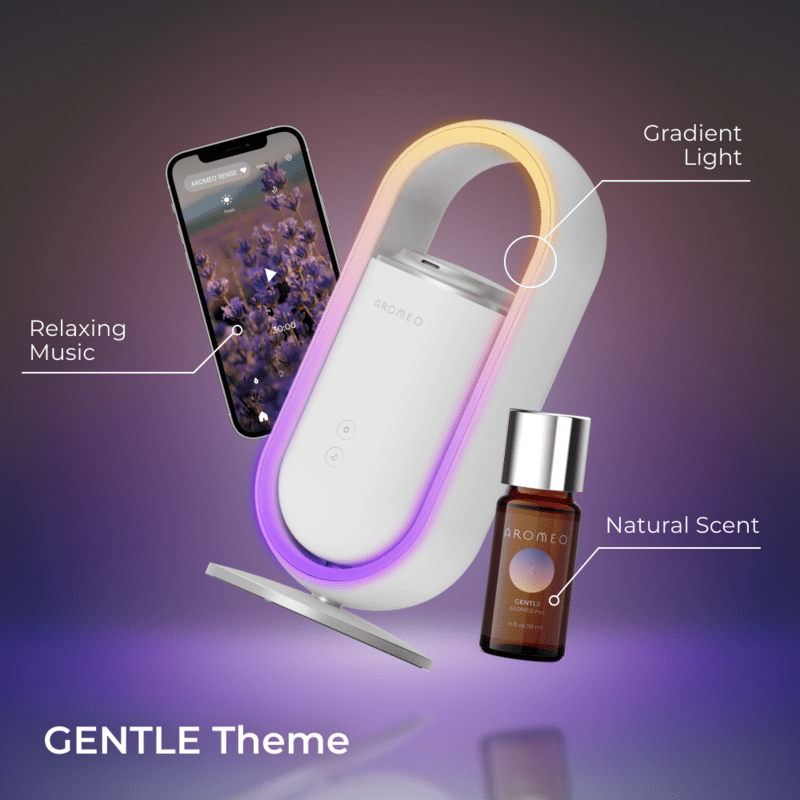 Sleek and futuristic in nature. The AROMEO SENSE was designed by engineers to help busy urbanites de-stress and sleep better. It is smart as well as beautiful. Featuring nature sound scapes and healing music.
Its a smart sleeping aid and a stress buster
How It Works
Change the way you engage with your space and re-discover the joys of everyday life through your senses. You can do this by indulging in the healing sounds of Nature with Aromeo.
You can also read related post: THE SENSE OF SOUND: Creating a calm and tranquil interior space.