I often find that the perfect French-styled interior is a blend of the old and the new. Something I think the French have mastered in their cities, fashion and interiors-That EFFORTLESSLY CHIC AND TIMELESS ELEGANCE. If you are looking to recreate that same class for your home office, Then this 7 step guide to a stunning french office will be sure to create a visually interesting backdrop for your zoom meetings.
As well as be a source of inspiration for creativity while you work from home.
1.GO VINTAGE
For this style vintage is Gold!
Incorporating the old is what gives French interiors that character and charm we love so much.
Try going for vintage styled furniture or artworks. And don't shy away from used items;These can turn out to be your most valuable gems.So go shopping at your nearest vintage store or online from stores like chairish.
You just never know what you might find.
2.COMBINE OLD WITH CONTEMPORARY
When it comes to your French office; A Vintage office desk together with a modern chair or rug is always a good idea; The key is in making it look effortless.
Here, you just have to go with your instinct (it's rarely wrong).
And when in doubt switch it up until it feels right to you.
3. AIM FOR UNASSUMING SIMPLICITY
When choosing your furniture; Emphasis should be on quality and construction.
Look for pieces that are functional and will stand the test of time.
A comfortable chair and desk are paramount.
Because let's face it- there is no point in designing a home office you will never use. Especially if you are interested in keeping it simple and minimal like the French.
4. GO FOR A MONOCHROMATIC COLOUR SCHEME
Choose a monochromatic colour scheme as the background of your home office.
This creates the best foundation for styling.
Since it gives you the freedom to experiment as well as express yourself; Without worrying about visual clutter.
Try all white walls; Or beige if white isn't your thing. Then use accessories and furnishings to bring in the colour.
5.DONT BE AFRAID OF COLOUR
Accentuate with colour to create focal points. And visual interest.
This will keep your French Office vibrant . Plus colour keeps the brain alert as well as active. Hence a win win in our books.
6.ADD ART
Art like paintings or even art prints can give a space personality.
This is your opportunity to let your personal style shine through.
So no hesitation,go with whatever feels right and intriguing. It does not have to make sense to anybody else. It's all about you, your values, tastes and preferences.
7.NATURAL IS ALWAYS BETTER
Work with the bare minimum; an approach that is so typical of french style.
Before thinking about adding anything else; Enhance what is already existing.
Large windows that usher in ample natural light. As well as potted plants that introduce the outdoors into your office; Are all great ideas that can transform your workspace.
All the while promoting general health and wellbeing.
Since most of us spend a lot of time in the office, it only makes sense that it is a healthy environment for us to be as productive as we can be. So as to take care of those we love.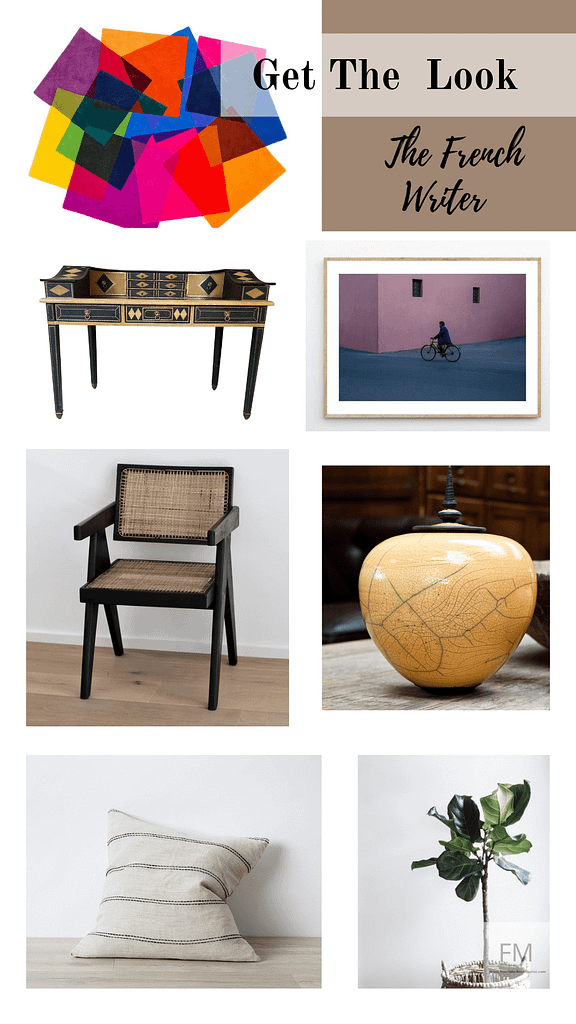 RUG:After Matisse Rug, Luxury contemporary rug by sonyawinner.com
DESK: French Tooled Leather Writing Desk courtesy of chairish.com
ART PRINT: Bicycle Man,Fine art giclée print created by Christina Kayser O. exclusively for The Poster Club.
CHAIR: Pierre Jeanneret Conference Chair courtesy of dimo.
VASE: Decorative artwork by Mieke Selleslagh courtesy of woontheater.be
THROW PILLOW: Mira Linen Cushion cover -Ana courtesy of cultiver.com