We're an affiliate
We hope you love the products we recommend! Just so you know, when you click and buy through links on our site we may earn an affiliate commission at no extra cost to you. Thank you if you use our links, we really appreciate it!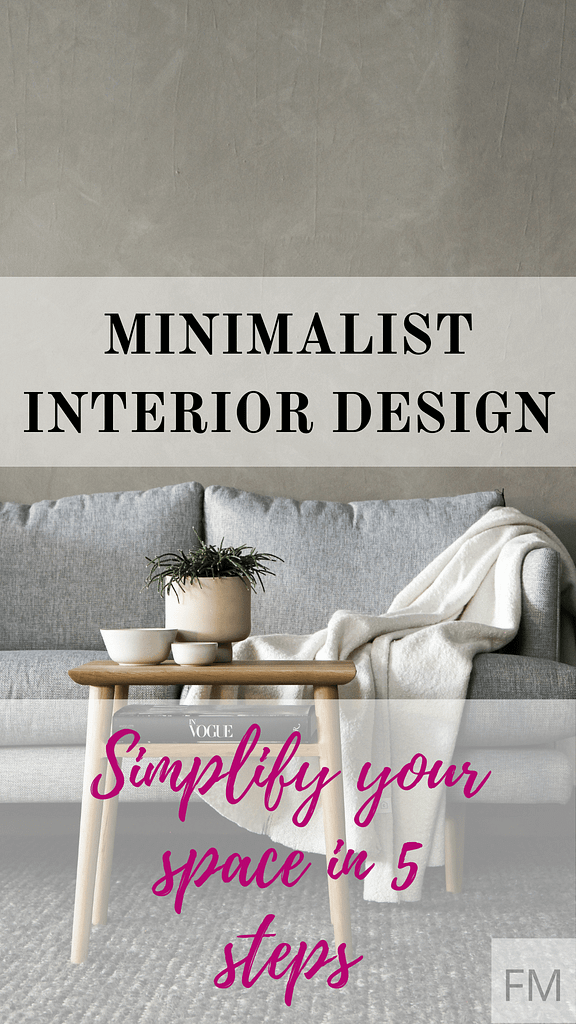 Think of Minimalist interior design as using the bare essentials to create a simple, uncluttered space.
One that evokes feelings of comfort, calm, as well as sophistication.
If you are a lover of space and clean lines, then this design style might just be for you.
Because of its characteristics of essentiality and simple beauty, It is sometimes referred to as reductive interior design. One that embraces purity in form and design without outside influences or disruptions.
Therefore, for this look to be successful, it has to be more deliberate than just choosing furniture and the correct shade of white wall paint for your house.
This is my attempt to summarize this rather sophisticated design style into 5 Simple Steps that can guide you in achieving a more minimalist interior aesthetic.
1.Keep It Simple
Aim for clear and simple but not boring.
Let your focus be on functionality and do your best to refrain from clutter.
This is easier when you define how exactly a particular space is meant to serve you; Then design around that purpose.
For example, a living room meant for family time and to enjoy intimate moments will have its focus on cozy, comfortable, intimate elements. While a living room pre-dominantly used for hosting does not necessarily have to be cozy but might just need to be interesting enough to spark off a conversation.
In doing this, you are letting the function of the space dictate what is important. That way you increase value and decrease clutter.
In addition to purpose, have the less is more approach to design.
That is less color, less ornamentation, and fewer wall hangings.
Try to keep the elements in themselves simple; Use a monochromatic color scheme with emphasis on neutral color tones like creams, greys, and whites, opt for clean lines as well as natural materials which help to create warmth.
Don't forget to accentuate what is already present or abundant like natural light and architectural details of the room. Use them to your advantage as major focal points in your space. There is nothing more simple than using what is already available to you.
2. Emphasis Should Be On Form, Focus And Functionality.
Form is a key element in minimalist interior design; This refers to the physical form of anything that is three-dimensional.
Also, form in relation to function refers to the shape of an object in relation to its intended purpose. For example, if you spend long hours watching T.V then investing in a good sofa would be a good idea. Even more so a comfortable thick cushioned sofa would be a better idea. Think of it this way: functionality dictates form.
It can either be geometric or natural.
For a more interesting space, you can try to introduce items with unique shapes or forms in your decor. This can be a coffee table in a living room or a sculptural light feature that will instantly elevate your space and give it architectural appeal.
But don't forget to consider the shape of your room as well as the objects within it while doing this.
So as to make sure everything in the space works together in its basic shape to achieve a harmonious and balanced look.
Furthermore, great thought must be given to the proportions and scale of a room compared to the objects being placed within it. Ensuring that all furnishings and artworks are well balanced within the space.
Additionally, all the elements; line, color, mass, texture, pattern, and light have to come together to create unity.
By now you can tell that Unity and Cohesion are at the core of a Minimalist aesthetic. As well as balance.
Nothing too overbearing or overwhelming. With this design style, everything is in perfect balance.
As far as focus is concerned Minimalism allows something else other than the space to be the center of attention; It could be anything, the view, the people, or even the experience.
As long as it's functional and adds value to the space.
3. Stick To Bare Essentials.
In Architecture and Interior Design, a minimalist perspective simply means stripping or condensing the content and form of a design to its bare essentials; So as to reveal its true essence.
This approach focuses on the essential elements like light, form, and beautiful materials that come together in a dramatic dance; Often in an open plan layout.
Creating a sense of space, freedom, and relaxation.
To achieve this aesthetic; You need to heavily rely on the beauty of the forms and materials in themselves; Because similar to modern design, there is no ornamentation or decoration.
Additionally, you can use lighting to create warmth and interesting contrast.
4. Insist On Flawless Craft Of Construction.
Since beauty is in the elements themselves; It is absolutely paramount that a great amount of attention is put on the craft of construction.
emphasis should be on the perfection of joinery, alignment, and cohesion. Especially when looking for furnishings for your home.
That is, furniture must be well-made and timeless in design to stand the test of time.
And when it comes to painting and tiling, there has to be great attention to detail. Because It needs to be immaculately done; As you can not add trim to hide misalignments.
5. Use Pure Geometric Forms.
Incorporate curves and simple shapes like circles, rectangles, and squares in your deco. stay away from complicated lines and forms.
This can be achieved in artworks, furniture in addition to architectural details.
Keep it flat smooth and neat.
BONUS POINT
A bonus point would be to consider storage as a priority during construction. So as to keep the space visually clean and appealing; While meeting realistic functionality concerns for the homeowners along with the users of the space.
MINIMALIST INTERIOR DESIGN INSPIRATIONS
INSPIRATIONAL MOOD BOARDS
One of the best ways to get a good grasp of the vision you would like for your space is to create a mood board. mood boards help you define the style and even the feeling of a particular room or space.
Here is some minimalist mood board inspiration to get you started
INSPIRATIONAL MINIMALIST ART WORKS
Focus on geometric shapes and simple forms.
INSPIRATIONAL MINIMALIST FURNITURE
Focus on quality and comfort; Simplicity in form and shape.
INSPIRATIONAL ARCHTECTURAL DETAILS
Emphasis on architectural details, form, and light
Cheers!