Simply put, a sustainable wardrobe is one that ultimately has less of a negative impact on our environment.
You might be in the process of transitioning or, are just making the decision to have a more conscious wardrobe. But are not sure where or how to begin.
That's OK, I've got you!
Because I do understand the fear of the possibility of not being able to wear your favorite brands, having limited choices, and the prospect of having to spend more than you normally would; I have put together this simple guide to help you start without much effort.
These 10 steps prove that it isn't as hard as you might think to get started on a sustainable wardrobe. And it could be as simple as changing your perspective on shopping and clothes in general.
1.EDIT YOUR SHOPPING HABBITS
Shift your lens from wants to needs. Avoid buying items for just in case. This creates waste and makes for a wardrobe that takes up space. Which can also be time-consuming; Given the amount of time you spend sifting through clothes every morning.
Aim to keep your wardrobe clutter-free with only essentials and things you actually use.
2.CHANGE YOUR MINDSET
Keep an open mind when it comes to shopping. There are other alternatives like second-hand and vintage clothing that offer great style and quality at a fraction of the price. As well as being kind to the environment.
Remember that every piece of clothing made has a substantial carbon footprint attached to its manufacturing.
Yet the amount of energy needed to produce vintage clothing is zero. Try second-hand stores near you or online.
For example, edit second hand and vestaire collective are some of the great options.
Interestingly, Second-hand clothing is one of the most inexpensive ways to shop more sustainably.
Also, opt to rent those one-offs or occasional items;This minimizes waste and makes the most of resources. Here are some fashion rental sites that are worth checking out, instead of buying new for your next occasion.
3.THE 30 WEAR TEST
It is very important to assess wearability before you buy anything. That is the number of times you will wear a particular item.
Ask yourself questions like; Where will I wear this? What will I wear with it?
OR Can I wear this 30 times; if the answer is NO then that is probably a bad investment.
The 30 wears campaign started by Livia Firth of Eco-Age is a good start to a sustainable wardrobe. It encourages us to only buy those items we are sure we will get good wear out of.
Try to veer away from that statement piece you know you are only going to wear for one occasion and instead invest in classic versatile pieces that can be styled in different ways; Those with more longevity and are not going to get out of style.
4.DO YOUR HOMEWORK
Carry out some research on sustainable brands out there.
The most challenging thing about building a sustainable wardrobe is where and how to start. Thank God for the internet that has made it much easier for us. Ask questions if you are uncertain about a brand and its values. Investigate and keep an eye out for those brands that you love and start from there.
Reformation, Tome, and Veja are some of the brands you can visit and the best thing is that they are certified by Eco Age. So, no need to worry. Just try your level best to be informed before you start loading your wardrobe.
5. AIM FOR A TRANS- SEASONAL WARDROBE
Buy items that you can wear all year round. Also, take into consideration your location and the weather.
Do not invest in an entire summer wardrobe when you live in a cold and rainy city; This always leads to regrets.
Keep your wardrobe relevant and efficient.
6. QUALITY OVER QUANTITY
It is important to note that quality does not always equal price. Though they can be related, It is not always a guarantee that something expensive is of good quality.
Non the less, do not be shy to invest in those high-quality pieces; They really do pay for themselves!
It's all about planning, saving, and buying less; This way you are making smarter financial decisions and building a more sustainable wardrobe.
Because these pieces tend to last longer and you will be buying less overall; Buying just a few high-quality pieces per year as opposed to loads of cheaper less eco-friendly pieces will dramatically reduce your footprint.
7.SHOP FOR SUSTAINABLE BUT STYLISH ITEMS
Sustainable fashion should and can be stylish. There are loads of sustainable fashion brands that offer more stylish alternatives for example Gaala; Just so your wardrobe doesn't have to be boring.
You can also get inspiration from influencers and celebrities that are using their platform for good; Advocating for ethical goods to improve their own lives and the lives of others.
There are a few things better than being stylish while looking after others at the same time.
8.DONATE OR RESELL
Think of the lifecycle of the garment you intend to purchase; Consider what you will do with it after you are done using it.
Look to give away those clothes you no longer need OR sell them off.
There are online platforms that can help you do that.
This keeps your wardrobe efficient and relevant; Plus it also helps others be more sustainable by purchasing your old clothes and re-using them.
You can also develop a one-in,one-out policy; Where every time you buy an item for your sustainable wardrobe, you donate something to someone else.
9.GET A TAILOR
Or learn how to sew your own clothes, that way you do not have to throw away everything that tears. And it will not be an excuse to buy something new.
If you do not have the time, you can pay someone to do it for you. Finding a great tailor will not only save you money but is also very sustainable.
It will keep you from throwing things out when they feel worn.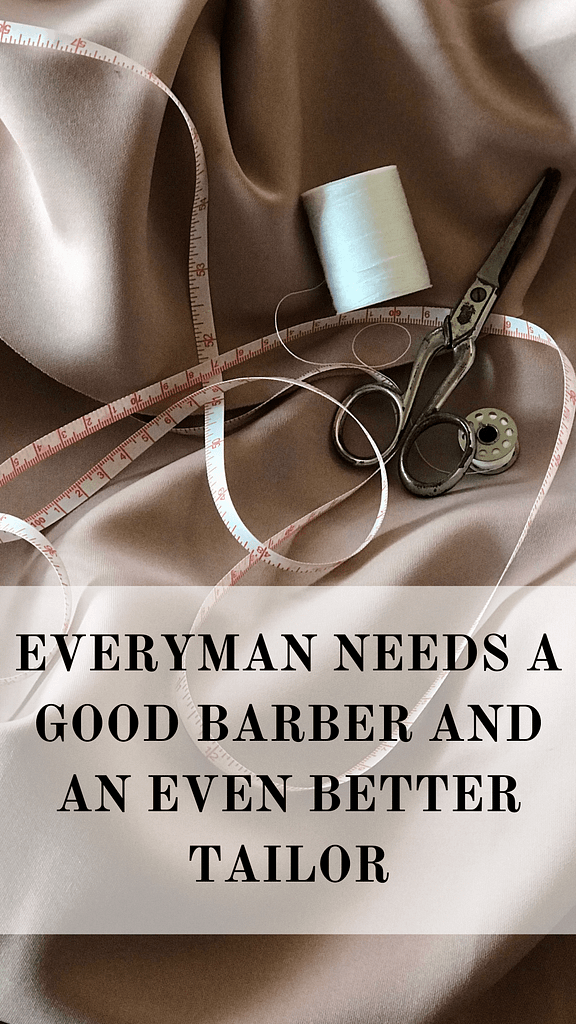 10.LOOK AFTER WHAT YOU ALREADY HAVE
Do not forget that the most sustainable piece of clothing is the one you already have. Find new ways of loving the clothes that are already in your wardrobe. You can do this through recycling or restyling. For example, a pair of old jeans can be revived with embellishments like bead work or embroidery.
So don't throw away everything in your wardrobe, give it new life!
Even more, If you buy higher quality items and look after them properly, you are less likely to replace things often.
But this should be done for everything in your wardrobe; Take care of your cashmere, wash your denim inside out.
And just go the extra mile to look after what you already have so they can stay at their best for longer.
Also, invest in tools like steamers: These keep your clothes clean, fresh, and wrinkle-free by reducing bad smells and killing bacteria. Fabric shavers are also good for prolonging the life of your knitted garments.
So, there you have it. My simple tips for a more sustainable fulfilling wardrobe. Please let me know in the comments if this has been of any help. I would love to hear from you.
cheers!