Personally, for me, Christmas is the most extravagant time of the year. The one season I and my family are allowed to indulge with little to no reservations. But, in as much as I like to take part in all the joy and celebration- The minimalist in me strives to keep the essence of Christmas as the focus of the season which is spending quality time with loved ones and embracing the spirit of giving. Whether you are looking for more experiences and less stuff OR want to invest in thoughtful actual items for pretty gifts under a tree, this Minimalist Christmas Essentials guide will help you make the most out of this holiday season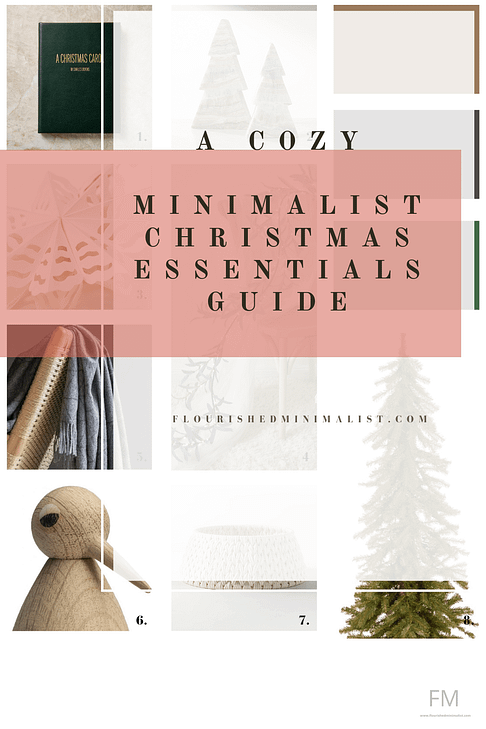 11 MINIMALIST CHRISTMAS ESSENTIALS TO SIMPLIFY YOUR HOLIDAY SEASON
1. Thoughtful Gift Giving.
Minimalists emphasize the importance of thoughtful, intentional gift-giving. Rather than opting for extravagant presents, consider giving gifts that have sentimental value or serve a practical purpose. Quality over quantity is the key.
2. Quality Over Quantity.
When it comes to Christmas decor, invest in timeless, durable decorations that can be used year after year, reducing the need for constant replacements. For example, a well-crafted nativity set is a timeless and meaningful decoration that can be passed down through generations.
3. Simple Decor.
Instead of going overboard with elaborate ornaments, keep your decorations simple and understated. Opt for a few key pieces that hold special meaning. Try not to fill every nook and cranny with excessive decor. Consider using natural elements like pinecones(amazon), greenery, or beautiful dried flowers(amazon) to create a cozy and welcoming atmosphere.
1. A Christmas Carol by Charles Dickens Green Leather Book
2. Green Travertine Christmas Tree Decor
4. Fudios Lighted Olive Garland(amazon)
5. Grey Throw Blanket(amazon)
6. Bird figurine(amazon)
7. White Christmas Tree Collar
8. Hickory Cedar Tree(amazon)
4. Digital Greetings
As opposed to sending physical Christmas cards, consider digital greetings. E-cards or heartfelt messages via email or social media can be just as meaningful without cluttering up your loved one's space. You can use a free online platform like Canva to do this with loads of great templates and creative options.
5. Eco-Friendly Wrapping
Minimalists often emphasize sustainability. Choose eco-friendly wrapping options like reusable fabric gift bags(amazon), brown kraft paper(amazon), or decorative durable baskets(amazon). Add a simple ribbon(amazon) or twine(amazon) for an elegant touch.
6. Simplified Meal Planning.
Keep your Christmas meal simple and stress-free. Focus on a few well-prepared dishes rather than an overwhelming spread. Consider potluck-style gatherings to share the cooking responsibilities.
7. Experiences Over Things.
Minimalists value experiences over material possessions. Instead of exchanging physical gifts, plan experiences like a movie night, a nature hike, or a cooking class with loved ones.
8. Minimalist Advent Calendar
Create a minimalist advent calendar(amazon) with small, meaningful activities or acts of kindness to count down to Christmas. It can be as simple as lighting a candle, sharing a special memory, or doing a good deed.
9. Mindful Traditions.
Minimalists cherish mindful traditions that hold meaning and foster connections with loved ones. Whether it's a family game night, storytelling, or caroling, focus on traditions that bring joy and togetherness.
10. Mindful Consumption.
Instead of buying items on impulse or because they are on sale, think about whether you truly need them or if they will bring value to your life in the long run. This mindset shift can help reduce waste and prevent clutter from accumulating in your home. Additionally, consider supporting local businesses or artisans when making purchases for example you can gift someone homemade baked goods or sweets from your favorite bakery instead of buying generic store-bought treats. Not only will this show thoughtfulness, but it will also provide a unique and personalized gift experience.
11. Gratitude Practice.
Embrace the spirit of gratitude during the holiday season. A minimalist Christmas encourages reflection on the things that truly matter in your life. Consider starting a daily gratitude journal(amazon) to remind yourself of the blessings you have.
1. Faux Bronze Berry  Holiday Stem
3. Cotton Christmas Blessing Throw Pillow Cover(amazon)
4. Linen Blend Christmas Ornaments
6. Essential oil Crackling Wood Wick Candle(amazon)
7. Coffee Table Decor(amazon)
8. Matte White Wood Holiday Beads
A CLUTTER-FREE MINIMALIST CHRISTMAS GIFT GUIDE
 Experiences over Material Possessions.
Instead of giving physical gifts consider gifting your loved ones experiences such as Christmas concert tickets to see their favorite band. Or a weekend getaway to a destination they've always wanted to visit. These types of gifts tend to create more lasting memories.
 Intentional Gift Giving.
Focus on thoughtful and meaningful presents that truly matter to the recipient as opposed to buying numerous gifts just for the sake of it. For instance, Online cooking classes or art workshops can be great options for those who enjoy learning and trying new things. Also, you can give personalized gifts that reflect the recipient's interests or hobbies. For example, if your loved one is a bookworm, you could gift them a collection of their favorite author's books or a subscription to a book club. Or if they are passionate about photography, you could surprise them with a new camera lens or enroll them in a photography workshop.
1. Safety Matches Bottle (amazon)
3. Cooking Book
4. Fairy Lights(amazon)
6. Christmas Candle(amazon)
8. Versailles Black and White Christmas Glass Balla
9. Penguin Figurine(amazon)
  Gift cards.
These are another great option for reducing waste and clutter. Instead of giving physical items that may not be used or appreciated, consider giving gift cards to your loved ones' favorite stores or restaurants. This allows them to choose something they truly want or need, minimizing the chances of the gift going unused or ending up in a landfill.
 A Hygge Kit.
Christmas typically happens in the winter season-making a cozy kit an absolutely wonderful gift idea that promotes relaxation for you and your loved ones. A Hygge(cozy) Kit typically includes items such as scented candles, soft blankets, warm socks, and a book or journal for self-reflection. This thoughtful gift encourages the recipient to slow down and enjoy some much-needed downtime during the busy holiday season.
 Gifts for the Environmentalist.
For those who are passionate about sustainability, eco-friendly gifts are an excellent choice. Consider gifting reusable items such as stainless steel water bottles, cloth grocery bags, or beeswax
These alternatives not only help reduce waste but also promote a more sustainable lifestyle. Another great gift idea for environmentalists is a subscription to a local community-supported agriculture (CSA) program or a membership to an organic farm. This allows them to support local farmers and receive fresh, organic produce on a regular basis.
 Flower subscriptions.
A flower subscription delivers fresh, locally grown blooms on a regular basis. This not only supports local flower farmers but also reduces the carbon footprint associated with transporting flowers from distant locations . Additionally, a flower subscription brings the beauty of nature into the recipient's home, promoting a sense of well-being and connection to the environment.
 Gift Nature.
For those who enjoy spending time in nature, consider gifting an annual pass to a national park or nature reserve. This encourages them to explore and appreciate the natural wonders around them while supporting conservation efforts. Along with the pass, you could include a guidebook or map of nearby trails and attractions to enhance their outdoor adventures.
1. Acrylic Holiday Mantle Decor
2. Names of Jesus Christ Christmas Ornament(amazon)
3. Safety Matches Bottle(amazon)
4. Ivory Textured Glass Christmas Tree Ornament
5. Artificial Full Christmas Tree(amazon)
7. Christmas Tree Decor(amazon)
8. Ivory Tapered Candles(amazon)
 Coffee Gift Packs.
We all know that one person who can not do without their coffee- For that coffee lover in your life, a coffee gift pack might just make their season. These packs typically include a variety of coffee beans or grounds from different regions or blends, allowing the recipient to explore and discover new flavors. You can also add accessories such as a French press or a pour-over kit for those who enjoy brewing their own coffee at home.
To make the gift even more special, you could include some gourmet snacks that pair well with coffee, such as chocolate-covered espresso beans or biscotti. – Wrap these in multi-functional baskets or beautiful personalized gift boxes
 Food Subscriptions.
Gift a foodie subscription box to your loved one and they'll receive a delightful surprise each month. There are many different types of food subscriptions available, catering to various tastes and preferences. For example, you could choose a cheese of the month club that delivers a selection of artisanal cheeses straight to their door. Or perhaps a wine subscription that introduces them to new and unique bottles from around the world. If they have a sweet tooth, consider a dessert subscription box filled with decadent treats like gourmet cookies or handcrafted chocolates
 Coffee or Restaurant Takeouts-Dinner.
These are great alternatives if your loved ones enjoy dining out or trying new restaurants. You could surprise them with a restaurant takeout subscription where each month, they'll receive vouchers or gift cards to local eateries, allowing them to enjoy a meal from the comfort of their own home. There are lots of great Delivery services like Grub Hub or DoorDash that offer a wide variety of cuisines to choose from.
 Gift local tours or outings.
That will give your friends and family experiences they would not typically get for themselves. For example paint nights, trip tours which you can get at a discounted price on Groupon. Airbnb also offers local tours for both locals and foreigners.
In conclusion, a minimalist approach to Christmas can help you rediscover the true essence of the holiday season: love, connection, and gratitude. By simplifying your decorations, gift-giving, and traditions, you can create a more meaningful and enjoyable Christmas while avoiding the stress and excess that often accompany the season. So, this year, embrace minimalism and savor the beauty of a simpler, more meaningful Christmas celebration.