My definition of a Simple Christmas meal plan is basically two elements: Easy to Prep /cook, and Less cleaning up. Simply because I love to cook for my family over the holidays but I don't necessarily want to be enslaved to the kitchen-On the other side of all the good conversations and laughter. I have found that too often the stress of preparing elaborate Christmas feasts can overshadow the festive spirit. Fortunately, there are ways to simplify your meal planning and preparation to ensure a stress-free and enjoyable holiday season. In this blog post, we will explore 13 simplified meal-planning tips that will help you keep your Christmas meals simple and stress-free.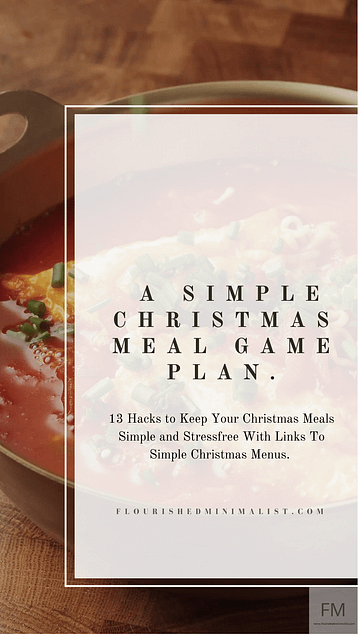 1. Start with a Well-Organized Meal Plan
Plan your menus in advance.
The key to stress-free holiday meal planning is to start with a well-organized meal plan. Begin by listing all the meals you'll be serving during the Christmas season, from Christmas Eve to the big day itself. This should include breakfasts, lunches, dinners, and any special treats or desserts.
Having a clear plan will ensure you have all the necessary ingredients on hand, help you stay on track, and avoid last-minute scrambles.
2. Keep it simple
While it's tempting to create a grand and elaborate menu, it can also be overwhelming. Stick to a few staple dishes that everyone loves instead of trying to make an elaborate spread.
Opt for easy-to-make recipes that require minimal prep and cooking time. A good example would be Beth's Easy Christmas dinner menu from Entertaining with Beth on YouTube which is both simple and delectable- A sure way to impress your guests without breaking a sweat.
Other Simple Christmas Menus include:
3. Make Use of Make-Ahead Recipes
One of the most effective ways to reduce stress during the holidays is to prepare dishes in advance. Look for recipes that can be made ahead and frozen or refrigerated until the day of the celebration.
This will save you precious time and reduce the workload on the big day. And also ensures that you have more time to spend with your loved ones during the holiday season.
4. Stick to Familiar Recipes
Although it's fun to switch up things in the kitchen to keep meals exciting, Christmas is not the time to experiment with complex new recipes. Stick to dishes that you are comfortable making and that your family enjoys.
Familiar recipes are not only less stressful but also more likely to turn out well.
5. Opt for a one-pot meal or casserole to save on dishes and cleanup.
Choose recipes that allow you to combine multiple ingredients into a single dish, such as hearty stews, baked pasta dishes, or savory pot pies. Doing this will save you time and effort in the kitchen.
6. Make a shopping list
Once you have your menu planned, create a detailed shopping list with all the ingredients you'll need. This will help you avoid any last-minute trips to the grocery store.
Also, If you do not like spending a lot of time turning your entire Christmas menu into a shopping list- Then you might want to consider a grocery list app. These apps make shopping so much easier, more efficient, and stress-free. My personal favorite is mealime because it combines meal planning, a recipe library, and a grocery shopping list all in one.
Plus their recipes are done in about 30 minutes. That way, I don't have to think about it too much which clogs my brain.
But there are loads of other grocery list apps that do an equally good job or even better when it comes to putting together a simple Christmas meal plan.
7. Take Advantage of Online Shopping
Online grocery shopping can be a lifesaver during the holiday season.
Many stores offer delivery or curbside pickup, allowing you to avoid crowded stores and long checkout lines. Take advantage of these services to streamline your holiday shopping and save yourself time and stress.
Plus, with online shopping, you can easily compare prices and find the best deals without having to physically visit multiple stores. It's also a great way to avoid impulse buying since you can stick strictly to your pre-planned list. As well as track your spending.
8. Prepare a Cooking Schedule
Create a detailed cooking schedule for Christmas day, including when each dish needs to go in the oven and for how long. This will help you manage your time effectively and ensure that all dishes are ready to be served at the same time.
9. Delegate Tasks
Don't be afraid to delegate tasks to willing family members or friends. Whether it's setting the table, chopping vegetables, or managing the oven, involving others in the preparations can make the process more enjoyable and less stressful.
10. Set Up a Festive Buffet
Rather than serving a formal sit-down meal, consider setting up a festive buffet.
This allows guests to serve themselves, reduces the need for multiple courses, and encourages mingling and casual dining.
Arrange a variety of dishes on the buffet table, such as appetizers, main courses, and desserts. Make sure to label each dish so that guests know what they are selecting. Provide an assortment of plates, utensils, and napkins for convenience.
11. Opt for Store-Bought Convenience
Don't feel guilty about incorporating store-bought items into your holiday meal. Pre-made appetizers, side dishes, and desserts can save you time and effort while still offering delicious options for your guests.
12. Focus on Presentation
Even simple dishes can shine when presented beautifully. Invest some time in garnishing and plating your dishes to make them visually appealing.
A well-decorated table with festive centerpieces can also enhance the overall dining experience.
If you want to go the extra mile to impress your guests then, The Art of Plating Food Like a Chef by Chef Rudakova (world-renowned culinary artist and professional chef) is a class on SkillShare that could be a great place to start testing out your skills.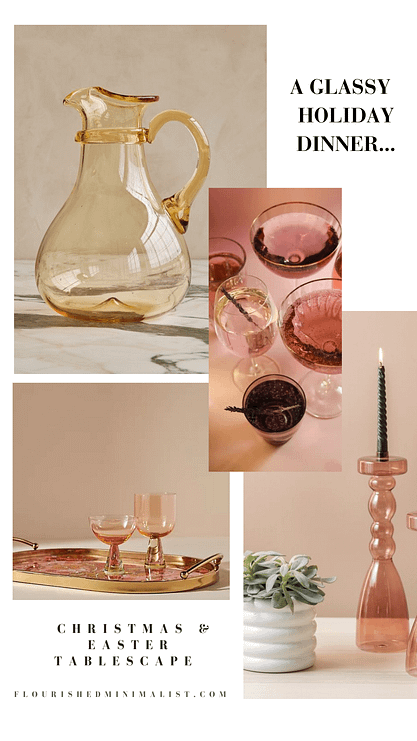 Colorful cocktail glasses from amazon
Glass Art Candle Holder by Present Time
13. Prioritize Your Well-being
Last but not least, remember to prioritize your well-being during the holiday season. It's easy to get caught up in the hustle and bustle, but taking breaks, staying hydrated, and getting enough rest are essential for staying stress-free and enjoying the festivities.
QUICK RECIPES FOR  A  SIMPLE CHRISTMAS MEAL
A simple Christmas meal prep focuses on efficiency while still delivering delicious and festive dishes. Here are some Christmas meal prep ideas for a stress-free holiday:
1. Roast Chicken or Turkey Breast:
Opt for boneless, skinless chicken breasts or turkey breasts to simplify cooking.
Season with salt, pepper, and your favorite herbs or spices.
Roast until cooked through and slice for easy serving.
2. Mashed Potatoes:
Peel and chop potatoes in advance.
Boil them until tender and mash with butter, salt, and a touch of milk.
Reheat before serving.
3. Roasted Vegetables:
Choose a variety of colorful vegetables such as carrots, Brussels sprouts, and bell peppers.
Toss them in olive oil, salt, and pepper.
Roast until tender and slightly caramelized.
4. Gravy:
Prepare a simple gravy by whisking flour into pan drippings from your roasted chicken or turkey.
Add chicken or vegetable broth, salt, and pepper.
Simmer until it thickens and store in a jar.
You can stirfry mushrooms with garlic and onions which you can add to your gravy for deeper flavour
5. Cranberry Sauce:
Make a quick cranberry sauce by simmering cranberries, sugar, and a bit of orange zest until it thickens.
Store in a container.
6. Stuffing Mix:
Purchase a pre-packaged stuffing mix or prepare your own dry mix of bread cubes and seasoning.
Add hot water or broth on the day of cooking to save time.
7. Salad Greens:
Wash and dry salad greens and store them in an airtight container.
Add dressing just before serving.
8. A Simple Christmas Dessert:
Opt for a minimalist dessert like a fruit salad, poached pears, or a simple chocolate mousse.
Prepare it ahead of time and store it in the fridge.
9. Make-Ahead Appetizers:
Prepare simple appetizers like stuffed mushrooms, bruschetta, or cheese platters in advance and refrigerate.
10. Beverage Station:
Set up a self-serve beverage station with water, wine, and a few non-alcoholic options.
Keep glasses and ice ready for guests.
11. Buffet Setup:
Arrange the dishes buffet-style to save table space and allow guests to serve themselves.
12. Simplified Table Decor:
Opt for minimalist table decorations like fresh greenery, candles, or a single centerpiece to keep the table elegant and uncluttered.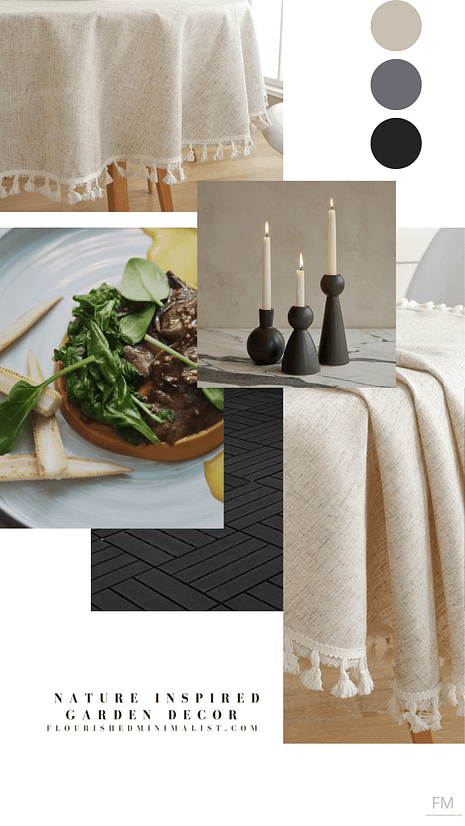 Cotton Linen Table Cloth With Tassels From Amazon
Black Candle Stands From Lostine
Interlocking Deck Tiles From Amazon
19 SIMPLE CHRISTMAS COOKING TOOLS THAT WILL CHANGE YOUR MEAL-PREPPING GAME
(amazon)
Use a kitchen timer or your smartphone to keep track of cooking times.
(amazon)
This tool comes in handy when checking your oil temperature for perfect deep fries and ensuring your roast poultry is cooked to perfection. 
(amazon)
A set of mixing bowls that can double as storage containers with lids is practical and space-saving.
(amazon)
I find that a food processor is a great kitchen tool for quickly chopping, slicing, shredding, and blending. Especially on those quick dinner nights.
They are incredibly versatile for meal prep.
It can be a real time-saver when it comes to preparing large quantities of vegetables or making dips and sauces.
(amazon)
I love these for precise chopping and measuring. Also, they add an element of fun to the whole cooking process.
(amazon)
A crockpot is a must-have for simplifying your Christmas meal prep. It allows you to slow-cook dishes, such as soups, stews, or roasts, with minimal effort.
Simply toss in the ingredients in the morning and let it simmer all day while you focus on other tasks. The result will be tender and flavorful dishes that are ready to serve when you're ready to eat.
(amazon)
If you prefer quick meals without compromising on taste, an Instant Pot is a game-changer significantly reduces cooking time while intensifying flavors.
Some options on the market are multifunctional and can be used as a pressure cooker, slow cooker, rice cooker, yogurt maker, and more.
This tool makes it on the list because its versatility makes it essential for busy holiday cooking.
(amazon)
A sauté pan is a staple in any kitchen, especially during the holiday season.
This versatile pan allows you to quickly cook and brown ingredients, making it perfect for sautéing vegetables or searing meats.
(amazon)
A good must-have for your One-Pot holiday meals.
Similar to the crock pot, this heavy pot is perfect for slow-cooking dishes and can be used both on the stovetop and in the oven to braise stews, cook soups, and even bake bread.
You can easily prepare hearty holiday meals like beef stew or roasted chicken with vegetables and thats why it's on the list.
(amazon)
These are versatile for cooking on the stovetop or in the oven, making them great for searing, roasting, and even baking.
(amazon)
A casserole dish is a must-have for anyone who loves baking delicious casseroles, lasagnas, or even desserts.
These dishes are typically made of ceramic or glass and come in various sizes to accommodate different recipes.
I especially love them because their deep sides allow for layers of ingredients to be stacked, creating a flavorful and comforting meal. Plus they can be aesthetically pleasing as serving dishes.
(amazon)
Love it for serving gravy or sauces instead of a boring soup bowl. It gives fine dining vibes 100%
(amazon)
Consider using high-quality disposable plates, cutlery, and glasses to minimize post-meal cleanup. There some relly elegant options on the market you will be amazed!
(amazon)
These versatile glass jars can be used for storage, serving drinks, or even as makeshift vases for table decorations.
(amazon)
Invest in a set of high-quality, leak-proof on-the-go containers that will make meal prepping and storing leftovers a breeze. You can also use these for packing up individual portions of food for your guests to take home after dinner.
(amazon)
Opt for minimalist table decorations like fresh greenery, candles, or a single centerpiece to keep the table elegant and uncluttered.
(amazon)
Some scissors come with additional functions, making them handy for various tasks.
(amazon)
Ensure you have dish soap, sponges, and a dish rack for easy cleanup.
(amazon)
This is great to display all your drinks and glassware. As well as set up your beverage station.
Christmas is a time to celebrate with loved ones, and having a simple Christmas meal plan approach can help you fully enjoy the holiday spirit without unnecessary stress. By incorporating the 13 meal planning tips, and simplifying your menu, you can create a memorable Christmas feast that brings joy and warmth to all.
For unto us a Child is born,
Unto us a Son is given;
And the government will be upon His shoulder.
And His name will be called
Wonderful, Counselor, Mighty God,
Everlasting Father, Prince of Peace.
                                               Isaiah 9:6
with love
-Dolorese
PS. Please do check out Minimalist Christmas Essentials To Simplify Your Holiday Season if you are on the lookout for Minimalist Christmas decor ideas and clutter-free gift suggestions for your friends and family.