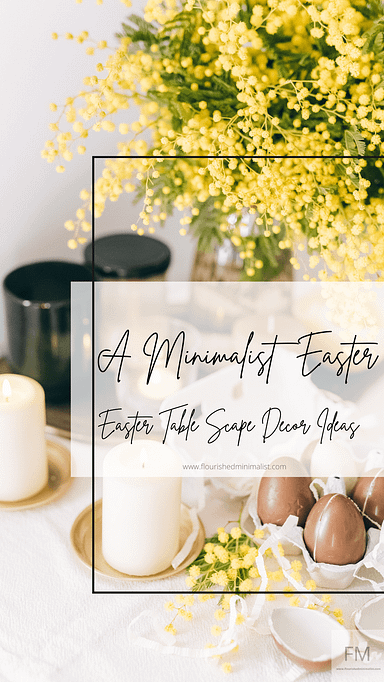 The idea behind having a Minimalist Easter is really an invitation to meditate and consider the reason for the season. More like to approach the holiday from a different perspective.
That is from the perspective of Gratitude and Appreciation.
Personally, Easter is a celebration of new life, hope, and love… We as a family celebrate King JESUS … His relentless love for us; which eventually led Him to the cross… His great sacrifice that redeemed us… and His Ressurection, the very anchor of our faith and hope.
Hence out of gratitude, we try to make it a point to spread the love to those around us. Most especially our family and friends…It's about getting together and gift-giving.  Catching up with each other's lives …Eating and MORE Eating Plus lots of hugs and laughter. All to His Glory!
In case you haven't noticed …I love Easter!
Likewise, I hope to inspire you here to feel the same about this beautiful holiday.
So, here are some minimalist  Easter tablescape ideas and themes to set the tone for those very special mealtime memories with your loved ones this holiday. They are very simple to execute; Therefore you will have plenty of time to spend with family and friends. But still deliver on elegance and sophistication.
FIRST LETS SET THE TABLE
BEGIN WITH  GOOD FOUNDATIONS
Set your table with love; In other words, aim to make your guests feel special.
And, there is nothing more welcoming than an especially curated table set for a meal.
On top of this right attitude, consider and choose your table cloth before you pick porcelain or any other decorative item.
A table cloth is always a good idea because it adds warmth, elegance as well as protects your valuable table from stains. Even more, it anchors your table decor and sets the direction in which the design should go.
Thus starting with a beautiful tablecloth will make your work simpler since it does half of the job without even trying.
MATCH AND DECORATE WITH NATURE.
When it comes to sophistication, nature always knows best.
Regardless of whether you are going for a minimalistic modern approach or any other design style, an element of the outdoors will sure elevate yours and your guests' dining experience.
This is simply because we as human beings are much more friendly and calmer when we are surrounded by nature. So if you want to keep the conversation going, Put a vase or basket of flowers along with dried twigs as the centerpiece of your table.
Not only will it make your guests feel special, But it will also add an element of charm to your whole ensemble.
LET FOOD BE THE MAIN FOCUS OF YOUR MINIMALIST EASTER TABLE
Give the food space to shine. That is to say, choose to incorporate the food you serve as part of your table setting; More as a way to complement your cutlery.
This can be fruits and vegetables from the garden or even edible flowers. As a result you will not have to use a lot of cutlery to fill up your table.
Which makes for a simple classy table set up.
ADD EDGE TO YOUR TABLE
Introduce something artsy and unique that will make the setting memorable.  For instance a personalized napkin with a special Easter message the guests can take home after the meal…
Or you can include art pieces and antiques into your table decor that will bring a whole other dimension to the setup. It could be anything unexpected like artistic themed charger plates or sculptural serving dishes and cutlery that are definitely engaging.
Allow your imagination to run wild with this; As well as your personality to shine through and your guests will appreciate you for it.
ADD A GIFT TO TAKE AWAY
To make it a little bit more special add a gift for your guests…Something they can take away to remind them of the evening.
NORDIC-INSPIRED MINIMALIST EASTER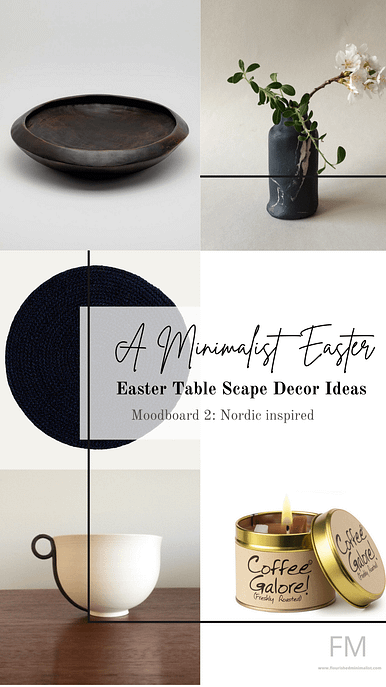 You can get the look here
ART DECO-INSPIRED MINIMALIST EASTER TABLE
NATURE-INSPIRED EASTER TABLE
EASTER TABLE DECOR: DARK CHOCOLATE AESTHETIC

EASTER TABLE DECOR: JAPANESE INSPIRED HIGH TEA PARTY
Happy Easter!
And God bless.