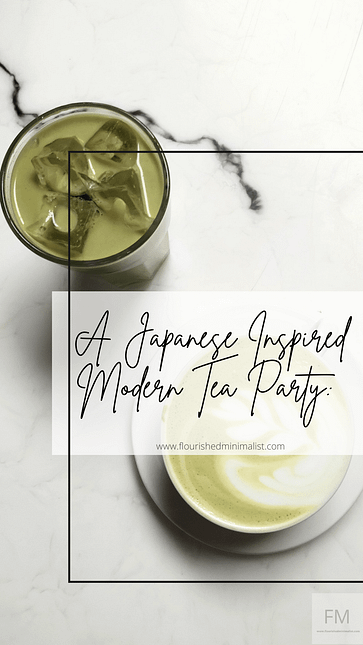 If you are looking for a new stylish way to host your friends and family. Then a Japanese tea party could just do the trick! Perfect for any function or small gathering.
Traditionally a ritual of quiet reflection and intention, the Japanese tea ceremony can take years of study as well as weeks to prepare.
None the less their shortcuts to creating your own Japanese-inspired modern tea party at home. With just a few steps you can recreate your own tradition.
What is so inspiring about this particular ceremony is really the peace and tranquility…the harmony with nature.
Evermore delicately; Everything about this ceremony just seems so graceful and elegant, starting with the traditional dressing to the making and drinking of the tea itself. From this is where I draw inspiration to create beautiful Japanese-inspired mood boards and color stories.
BUT FIRST LET'S MAKE OUR JAPANESE TEA
The tea of choice is Matcha tea; Which is believed to be one of the world's superfoods; You can read more on its benefits  here
For this, we are going to use Kon Marie's recipe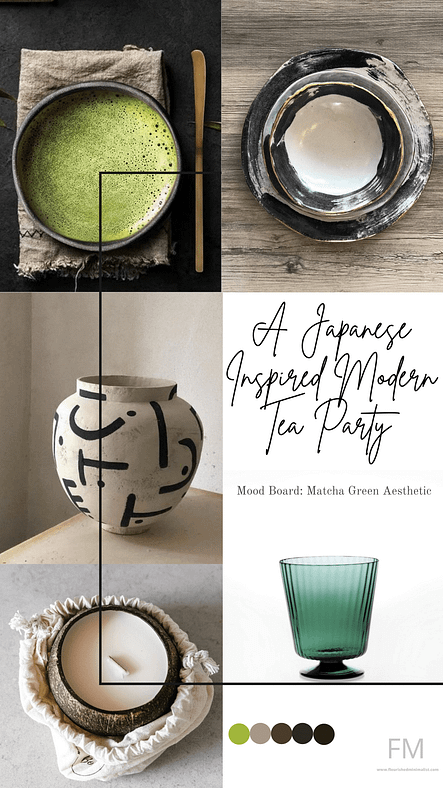 Matcha set: Vanilla Bean
Ceramic Dinnerware Karate Gold Zen: bluedoorceramics
Vase: asili
Coconut Soy Candle: bluedoorceramics
Goblet: Chairish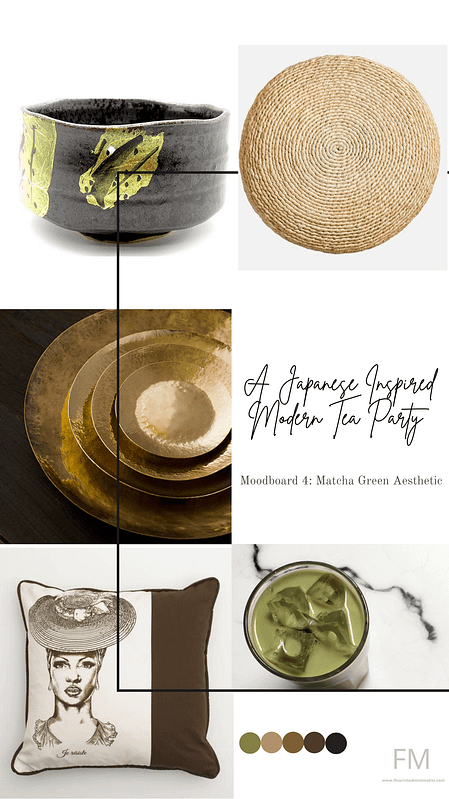 Japanese Matcha Bowl Gold Flower: by Kutani Yaki
Woven Floor Pillow: 54kibo
Japanese brass plates: Ruka Kikuchi
African Throw Pillow: 54kibo
GOOD VIBES
Now, we can set the mood for the ceremony; Find a quiet, tranquil place in your home to set up for your guests. Preferably somewhere around nature. And somewhere comfortable.
Make sure to set the table as well as arrange all the utensils and supplies you and your guests will need to make the tea .
When it comes to decor, style with intention. The idea is to create a reflective calm space that you can share with your loved ones;
But at the same time, You want a fun and entertaining party. Usually, calm background music over the tea helps to enhance the ambiance. Otherwise, keep the decor clean and simple with a ton of refreshments.
Along with sweet snacks to entertain.
Lueur, Art print by Anna Johansson: theposterclub
Matcha set: hopeandhope
African Throw Pillow: 54kibo
Platform tray: mutto
Black Porcelain Vase: risanishimori
Jacaranda Natural Round Bowl: asili
African Throw Pillow: 54kibo
Black Porcelain cups: risanishimori
Salt Shaker: 54kibo
Black Porcelain cups: risanishimori
Black Woman Blue Bolster Throw pillow: 54kibo
Hand made plates: risanishimori
GIFTING
Do not forget to add something special for your guests to take home as a reminder of  the evening
Binga Large black Throw Pillow: 54kibo
Modern Matcha Set: Vanilla Bean
Red Raffia Tote Bag; 54kibo
Atlas Spice Luxury Blanket: 54kibo
Dip Bowl Pink: asili
Enjoy!
God bless.