We're an affiliate
We hope you love the products we recommend! Just so you know, when you click and buy through links on our site we may earn an affiliate commission at no extra cost to you. Thank you if you use our links, we really appreciate it!
Are you moving into your first apartment and feeling overwhelmed by the endless list of things you need to purchase? Don't worry, we've got you covered with our apartment checklist that has all the essentials you need for a comfortable apartment life!
ESSENTIAL APARTMENT CHECKLIST
Basic Furniture
Moving into your first apartment can be both exciting and overwhelming. One of the biggest challenges is furnishing your new space without breaking the bank. To help you out, we've put together a cheat sheet of basic furniture essentials that every apartment needs.
First on the list is a comfortable bed. Investing in a quality mattress and bed frame will ensure you get a good night's sleep and set the tone for your entire day.
Next, consider purchasing a sofa or futon for your living room area. This piece of furniture provides not only seating but also serves as an extra sleeping space for guests when needed.
Another essential item to add to your checklist is storage solutions. Living in an apartment means that you have limited space, so investing in items like bookshelves, dressers or cabinets will maximize your living area while keeping things organized and tidy.
If you want more on how to furnish your apartment and maximize every square inch, read here
Kitchen Must-Haves
One of the most essential rooms in any apartment is the kitchen. Because when it comes to cooking delicious meals at home, having a well-stocked kitchen with essential gadgets is key. With a few must-haves, you can be sure that you're prepared for any meal or snack that comes your way.
On the list of kitchen must-haves is a set of durable cookware. Whether you prefer stainless steel, cast iron, or non-stick pans and pots, investing in high-quality cookware will save you time and money in the long run. Multi-purpose cookware is a plus- as it is designed to provide versatility and convenience for cooks.
Along with cookware, having a set of sharp knives is crucial for preparing food easily and efficiently.
Also, a versatile cutting board will come in handy, especially for a small space. Opt for one made from bamboo or plastic as they are easy to clean and won't dull your knives quickly.
To find out more on kitchen essentials that will help keep your apartment clutter-free click here
Bathroom Necessities
One of the most important areas to focus on when setting up your new home is the bathroom. It's where you start and end each day, so having all the necessary items in place can make a huge difference.
Let's talk about bathroom necessities.
This includes towels-You'll want to have at least two sets of towels per person – one for use while the other is being washed.
When it comes to washcloths, opt for a few more than necessary, as they tend to get dirty quickly.
A bath mat not only adds a pop of color but also helps prevent slips on wet floors.
Next up are toiletries. These items are crucial for your daily routine and can easily be forgotten in the chaos of moving. To help you out, we've created an apartment essentials cheat sheet specifically for toiletries.
First on the list are toothpaste and a toothbrush. It may seem obvious, but these items are easy to forget when packing up your bathroom. Make sure to have at least one spare set so you're covered if one gets misplaced or worn out.
Next up are shampoo and conditioner – opt for travel-sized bottles if space is limited in your new place.
Don't forget about body wash or soap! It's important to keep yourself clean and fresh, especially during those hot summer months.
Home Decor Items Apartment Checklist
You might be feeling overwhelmed by the thought of decorating and furnishing your space. But don't worry! With these simple tips, you can easily create a stylish and comfortable living environment without breaking the bank. Here are some home decor ideas to get you started.
Invest in multipurpose furniture. In a small apartment, every inch counts, so look for items that can serve multiple functions, such as an ottoman that doubles as storage or a sofa bed for overnight guests.
Secondly, add some personality with wall art and decorative pillows. These affordable accents can instantly transform a room and make it feel like home. Choose pieces that reflect your personal style and color scheme.
Next on the list are practical items like curtains or blinds. They provide privacy while also adding texture and color to your space.
To crown it off is lighting. Good lighting can make all the difference in creating a cozy and inviting atmosphere. Consider adding table lamps, floor lamps, or even string lights to add warmth and ambiance to any room. Don't forget about task lighting too – a well-placed desk lamp can do wonders for productivity!
Cleaning Supplies and Tools
When it comes to apartment living, having the right cleaning supplies and tools can make your life easier. But with so many options out there, it can be overwhelming to figure out what you actually need. That's where our apartment essentials checklist comes in – we've rounded up everything you need to keep your space sparkling clean and organized.
First up on our list of must-have cleaning supplies is a good all-purpose cleaner. Look for one that's safe for multiple surfaces like counters, floors, and even glass. You'll also want a few specialized cleaners for specific tasks like bathroom tiles and stainless steel appliances. And don't forget about disinfectant wipes or spray – essential for keeping germs at bay.
In addition to cleaners, having the right tools is key when it comes to cleaning your apartment efficiently. Invest in a high-quality vacuum cleaner that will help keep dust and dirt from accumulating on floors and carpets, making it easier for you to maintain a clean space.
On top of that have a few different types of cleaning cloths such as microfiber or cotton to make wiping down surfaces a breeze.
Another essential tool for any apartment dweller is a mop or steam cleaner. These tools will allow you to do a thorough cleaning of your floors, removing any grime or sticky residue. You can also opt for a steam mop that will kill germs and bacteria while cleaning your floors.
Safety Equipment Checklist
When you first move into a new apartment, it's essential to make sure you have everything you need to ensure your home is safe and secure. Safety equipment is often overlooked but can be crucial in case of an emergency. Here's a checklist of the most important safety items that every apartment dweller should have.
First on the list are smoke detectors. It's not only required by law to have one in every bedroom and common area, but it could also save your life in case of a fire. Make sure to test them regularly and replace batteries twice a year. Carbon monoxide detectors are just as important as they detect odorless gas that can be fatal if left undetected. Place them close to sleeping areas and ensure they're functioning correctly.
Next up is a fire extinguisher. Make sure it's stored in a safe place and visible to everyone. You can also buy one with a built-in alarm that alerts others when activated. A first aid kit could also be very useful in case of a cut or burn.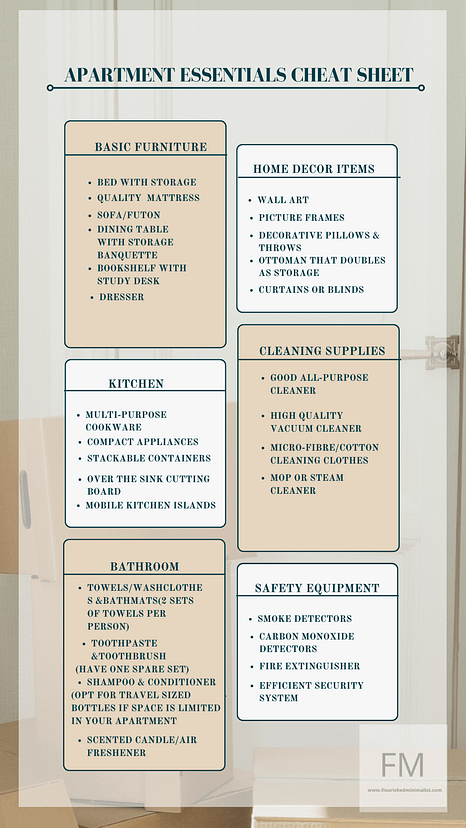 Miscellaneous Apartment Essentials Checklist
First and foremost, investing in a good set of basic tools is an absolute must. A hammer, screwdriver set, pliers, and measuring tape will come in handy for all those small repairs around the apartment. You might also want to pack an alarm clock and a comfortable chair if you're going to be studying in your room.
Other miscellaneous items to throw in your room are a clothes steamer and a water cooler. These may not be as essential as the first list, but they're certainly nice to have!
This apartment essentials checklist is a fantastic starting point for anyone looking to move into their first apartment or just spruce up their current living space. It's essential to be mindful of the many items you need and take inventory of your belongings so you can make sure you have all the necessary items for comfortable living. No matter how big or small your space is, with this guide in hand, you'll be able to create a home that is both functional and inviting.
With Love, Dolorese