We're an affiliate
We hope you love the products we recommend! Just so you know, when you click and buy through links on our site we may earn an affiliate commission at no extra cost to you. Thank you if you use our links, we really appreciate it!
Having the right kitchen essentials can make all the difference when it comes to keeping your apartment clutter-free.
A well-stocked, organized kitchen can help you save time and energy when cooking, as well as stay on top of daily tasks that require minimal messes.
From countertop appliances to storage solutions,  here are the top apartment kitchen essentials for a clean and tidy home.
First, Declutter Your Countertops.
Before shopping for any new items take time to evaluate and free up your counter space.
Quite frankly decluttering your countertops can be an overwhelming and daunting task, but it doesn't have to be. Every home needs a little organizing from time to time, and getting rid of the excess on your counters is a great place to start.
By following these simple steps, you'll have a neat and tidy countertop in no time!
Start by sorting through each item on the countertop one by one. Anything that you don't use regularly or don't need should go – this includes mail, papers, knick-knacks, and anything else that's been collecting dust.
Next, find homes for the items that you want to keep – this could mean transferring them into drawers or cupboards or finding new places in other parts of your home where they can live instead of taking up valuable space on the countertops.
Secondly, Strategically Store Kitchen Essentials.
When it comes to kitchen organization and storage, there are several key points to consider. A well-organized and functional kitchen relies on the effective and strategic placement of essential items. Utilizing space wisely is the key to success in any cooking environment.
The first step is identifying which items you use most often. These should be placed close at hand, within easy reach of your most used workstation. This could include a cookbook stand, spices placed in an accessible drawer or cupboard, or a rack for favorite pots and pans. To maximize efficiency while working, it's important that all necessary tools are easily accessible when needed; this will help speed up meal preparation time as well as streamline clean-up afterward.
Try creating designated spaces for each item; This will help keep your kitchen organized and efficient.
Thirdly, Opt for Multi-Purpose Kitchen Appliances.
These are great essentials for any kitchen.
Having a kitchen stocked with multi-purpose appliances can save space, time, and money! There is no need to search for the right product to suit your needs when you can use one appliance to do it all.
Updated models are more energy efficient and durable than ever before, so there's no reason not to opt for these handy items.
Also, they come in all shapes and sizes, from countertop blenders that make smoothies, chop, grind, and juice fruits; to air fryers that bake, roast, or grill food while using up to 80% less oil than traditional deep-fryers; or convection ovens with multiple functions like grill, broil or toast.
While at it, Consider Open Shelving.
Open shelves are quickly becoming a kitchen essential for a stylish kitchen.
Add some shelves to store food items like spices and oils plus pantry staples such as grains and cereals.
Apart from adding to the aesthetics of your kitchen-This will also allow for easy access to ingredients when cooking meals.
Secondly, acquire some stackable organizers or food containers in various sizes to keep things neat in drawers or cupboards. Place frequently used kitchen tools like mixing bowls on an open shelf where they can be seen easily so you don't waste time trying to find them.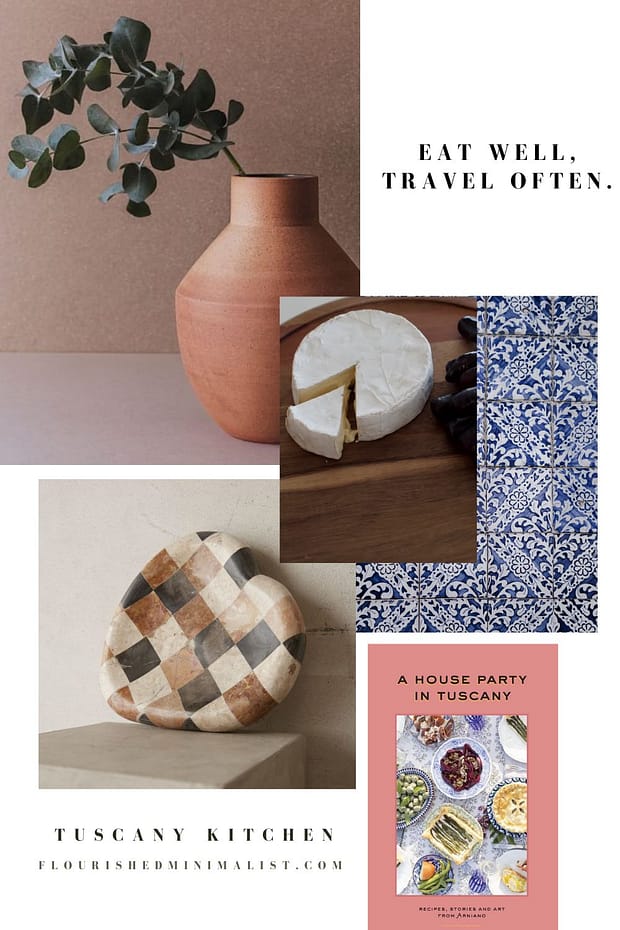 Mexican Hand-Crafted Ceramic Vase: Westelm
Marble check Catchall tray: McMullin and co.
A House Party In Tuscany by Amber Guness: Cookbook Amazon
THE KITCHEN ESSENTIALS CHECKLIST
MULTI-USE COOKWARE
This cookware has revolutionized the way we prepare meals in our kitchens.
It is designed to provide versatility and convenience for cooks, as it can be used on a stovetop, oven, induction hob, and in a microwave. With multi-use cookware, you can fry, sauté, and roast with the same piece of equipment saving time, energy, and money.
A great example is the dutch oven or skillet that can go from stovetop to oven.
This type of cookware often comes with an array of additional features that make it easier to use than traditional pieces. Many multi-use pots come equipped with tempered glass lids to monitor food while cooking as well as handles that stay cool while on the stovetop. This allows cooks to move their pots in between appliances easily and safely without worrying about burns or spills.
Additionally, many multi-use pieces are dishwasher safe for easy clean up after use.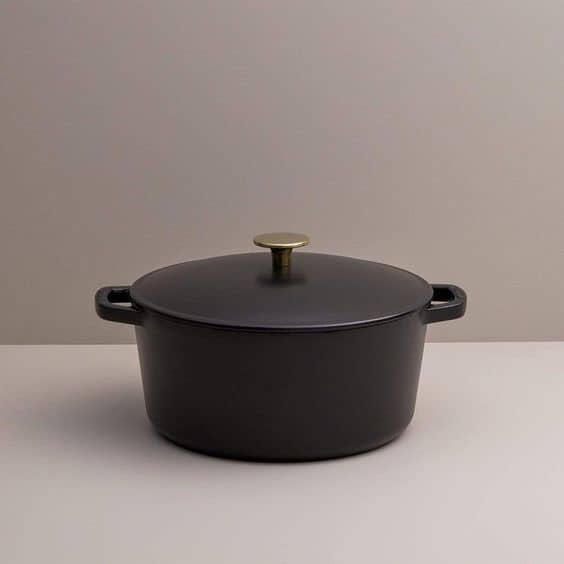 COMPACT APPLIANCES
Such as a small blender or toaster oven are a great choice for those who need their home to be both functional and stylish. From refrigerators to dishwashers, the latest trends in compact appliances provide the perfect combination of form and function.
These smaller versions of a traditional kitchen, laundry, and other household appliances help homeowners save on space without compromising quality or style.
The range of options for compact appliances is remarkable. Whether you're looking for an energy-efficient refrigerator or a sleek dishwasher, there's something available that will suit your needs perfectly.
If you have limited space in your kitchen, consider using drawer-style dishwashers. or a countertop washing machine – they take up less room than traditional models but deliver all the same features!
SPACE-SAVING STORAGE SOLUTIONS
A great choice for any modern home with limited space. We've rounded up the top five innovative and stylish storage solutions that will keep your kitchen neat and tidy, without taking up too much room.
These sleek, space-saving solutions include;
Slimline cabinets
Stackable containers or hanging pot racks,
Under-bed boxes
Multi-functional furniture pieces
Floating shelves.
With these clever goods in your home, you can easily store away items while maintaining a minimalist aesthetic.
Whether you need to organize jewelry or sort out seasonal clothes, these space-saving storage solutions will help you make the most of your home's square footage.
PORTABLE KITCHEN ISLAND/ CART
Another practical item to add to your kitchen essentials list is the portable kitchen island cart.
This compact piece of furniture is quickly becoming a must-have for any home cook in need of more prep space in their kitchen.
It offers the convenience of having extra counter space, storage, and seating in your kitchen without taking up too much floor space.
With so many sizes, styles, materials, and other features available to choose from, it's easy to find the perfect portable kitchen island cart to fit your needs.
When shopping for portable kitchen island carts there are several important factors to consider.
First off you need to measure how much space you have available in your kitchen. This will help determine what size of cart is right for you; larger carts may be too bulky while smaller ones may not provide enough room for food prep or storage.
Secondly, you should think about the material that best suits your lifestyle; hardwood islands are beautiful but require more care than stainless steel or plastic options.
COLLAPSIBLE COLANDER/STRAINER
The Collapsible Colander Strainer is an innovative design that revolutionized kitchen draining.
This strainer is designed to collapse for easy storage, allowing users to save space and keep their kitchen organized. With this practical tool, it's easier than ever to quickly drain your favorite pasta dishes or rinse off your fresh produce.
It has many features that set it apart from traditional strainers. Its flexible silicone construction allows the strainer to collapse down for convenient storage.
While its sturdy base and flexible handles make it comfortable and secure to use in any sink. The extra-large capacity is perfect for larger pasta dishes and makes quick work of rinsing fruits, vegetables, and other foods. Plus, it's dishwasher safe so cleanup is a breeze!
OVER-THE-SINK CUTTING BOARD
These handy boards provide extra counter space and come in a variety of shapes, sizes, and materials. Making them indispensable on your kitchen essentials list.
With an over-the-sink cutting board, you'll be able to quickly chop and dice ingredients without having to constantly move them from one surface to another. This can help reduce the amount of time food preparation takes while saving valuable kitchen counter space.
The best part about these cutting boards is that they fit right into the sink, so there's no need for additional fixtures or tools. They are also easy to clean since most are made from durable plastic or wood materials that resist staining and warping.
Aside from being functional, many of these boards come with unique designs that add style to any kitchen décor.
MAGNETIC KNIFE HOLDER
When it comes to organizing your kitchen tools, a magnetic knife holder is a great option. Not only does it provide trouble-free storage for all your knives, but it also makes them easily accessible.
It is attractive and doesn't take up much space on the wall or countertop; Making it a must-have item for every kitchen enthusiast out there!
WALL-MOUNTED POT RACK
Wall-mounted pot racks are a great way to add style and function to any kitchen. Not only do they look great, but they also make it easier to access cookware while freeing up valuable cabinet or counter space.
With this system, you can easily display your favorite cookware while keeping it within easy reach.
Whether you're looking for an ornate metal rack or a more traditional wooden version, there are plenty of options when it comes to finding the perfect wall-mounted pot rack for your kitchen. From sleek designs in brushed nickel and chrome to more vintage options made from wood and wrought iron, these versatile pieces come in all shapes and sizes so you can find the ideal fit for your space.
COMPACT DISH RACK
When it comes to organizing a kitchen, having the right dish rack is necessary.
For small spaces, you can consider  The Compact Dish Rack by KitchenAid
It has a sleek and modern design with all of the features needed to keep your dishes, silverware, and cookware organized in one convenient location.
Some of the key elements to consider when choosing a dish rack for your kitchen are:
Durability in terms of materials.
Removable drainboard for easy cleaning.
Stability to secure items whilst drying.
Non-slip feet to keep it from sliding around on work surfaces during the loading and unloading of dishes.
Neutral and timeless design to fit perfectly in any kitchen decor scheme, especially for a rental apartment.
STACKABLE OR FOLDABLE CHAIRS/STOOLS
One of the most stylish and functional kitchen essentials for any home.
Not only are they versatile and space-saving pieces of furniture, but they're also comfortable enough to lounge in while you work, socialize, or relax.
With many shapes and sizes available, there's a folding chair suitable for any room layout or purpose.
Stackable chairs with stools offer an even more versatile seating solution that can be used as extra seating around the house during parties or gatherings.
And can also serve as a stylish accent piece when not in use. These chair stools easily fold away for storage without taking up too much space, making them an ideal option for anyone lacking floor area but wanting to add a bit of style to their décor.
UNDER CABINET SHELVING
Under-cabinet shelving is an important component of any functional kitchen.
It's not just about the countertop space, but also the storage beneath it. With under-cabinet shelving, you can make the most of your storage space and maximize its efficiency.
This shelving system provides a perfect place to store items such as dishware and food containers while keeping them close at hand.
In addition, it can be used to store small appliances that don't take up much space on the countertop. Not only is this convenient for everyday tasks, but it also helps keep your kitchen looking neat and organized by providing extra storage without additional clutter.
The best thing about under cabinet shelves is that they come in a variety of sizes and styles so you can find something that will fit in with your current decor style or create an entirely new look for your kitchen.
PULL-OUT PANTRY OR CABINET ORGANISERS
When you think of pantry storage, it's easy to imagine a jumble of mismatched canned goods and bags of snacks. But with the right pull-out cabinet organizers, you can make your pantry look organized in no time.
These handy storage solutions are designed to fit into any corner or recess in your kitchen cupboards or pantry. By taking advantage of unused space, they help maximize the width and depth of your shelves and drawers for maximum efficiency.
Pull-out cabinet organizers come in all shapes and sizes so you can find the perfect piece for whatever job needs doing – from large cutlery draws to narrow spice racks – there's something for everyone!
Making them great kitchen essentials for any minimalist kitchen.
WALL-MOUNTED UTENSIL RACK
The kitchen can be a busy place, with utensils and tools scattered around the countertop. To keep the space organized and clutter-free, a wall-mounted utensil rack is an ideal solution. This helpful storage device will provide convenient access to often-used items while making sure they are neatly stored away when not in use.
Made of strong materials like metal or bamboo, these racks are designed to attach directly to any wall surface.  The open design allows you to quickly grab what you need without taking up too much space on the countertop or in cupboards.
Additional hooks can also be used for hanging other kitchen essentials such as spices and herbs for easy accessibility.
COMPACT REFRIGERATOR
Whether you need more storage options in a small kitchen or simply want to avoid the hassle of constantly buying ice for your mini-fridge, investing in a compact refrigerator is the right choice.
This kitchen essential comes in several sizes and styles so that there's one for everyone's needs. They typically feature adjustable shelves, door bins, as well as crisper drawers, and some, even include freezers with full-width wire shelves.
Additionally, many compact refrigerators are designed with energy efficiency in mind – meaning they can help you save money on electricity bills while still providing reliable cooling performance.
These handy appliances provide convenience and optimal temperature control at an affordable price point.
VERTICAL PAPER TOWEL HOLDER
The Vertical Paper Towel Holder is an innovative solution for the modern home.
This sleek, contemporary design offers an organized and efficient way to store your paper towels.
It takes up less space in your kitchen and fits perfectly against any wall or cabinet. The holder is also easy to install with minimal effort and no additional tools required—it simply screws into the wall for instant use.
The Vertical Paper Towel Holder features a sturdy metal construction that can withstand daily wear and tear, along with a modern chrome finish that complements any style of décor. Its ergonomic design makes it easy to grab hold of the paper towel roll, while its elevated position ensures proper air circulation throughout the entire roll keeping it dry and fresh at all times. Plus, it's low-maintenance so you don't have to worry about replacing parts or cleaning up messes every day!
UNDER-SHELF BASKET
These help you free up counter and cabinet space while still maintaining a neat and organized look. While they have numerous uses, they are especially great for helping to store kitchen items in an accessible yet out-of-the-way place.
Undershelf baskets come in a variety of sizes, shapes, and styles to fit any room or decor. From heavy-duty wire baskets to sleek plastic designs, there is something for everyone's needs.
The ability to stack multiple shelves allows you the potential for increased storage capacity without sacrificing style. Plus, if you ever need additional baskets down the line, it is simple enough to purchase more at your local home goods store or online retailer!
OVER-THE-DOOR ORGANISER
Organizing your home can be a challenging task, but it shouldn't be.
Over-the-door organizers are great kitchen essentials to keep everything in its place and create an organized, tidy home.
They are incredibly versatile; They can be used to store anything from bathroom accessories, kitchen tools, and office supplies as well as craft materials.
The best thing about them is that you don't need any extra hardware or installation – simply hang them on the back of a door or wall for instant storage! Over-the-door organizers also come with handy hooks so you can easily store items such as jackets, scarves, or bags without having to take up valuable floor space.
WALL-MOUNTED RACKS FOR ORGANISING NOTEBOOKS AND SHOPPING LISTS
Organizing your notebooks and shopping lists doesn't have to be a hassle. Wall-mounted racks provide an easy and convenient solution for keeping track of all your documents and lists in one place.
With sturdy construction, enough space for multiple items, and stylish designs, these racks will allow you to keep everything organized without sacrificing aesthetics.
Available in a variety of styles, wall-mounted racks offer versatility when it comes to organizing your notebooks, shopping lists, magazines or other documents.
Many models come with adjustable shelves so you can customize the height according to the items you plan on storing – perfect if you need to make room for larger books or documents. In addition, most products feature slots and pockets designed specifically for pens or small accessories like scissors or rulers – making it easy to keep everything neat and organized.
UTILIZE THE RIGHT STORAGE CONTAINERS
Proper storage containers are essential for keeping food and other items organized, safe, and ready to use.
Whether it's a pantry or the refrigerator, storage containers help keep items fresh and easily accessible. There is a variety of different types of containers that range in size, shape, and material. Knowing which type of container to use can be the difference between having an orderly kitchen and one that's filled with clutter.
When shopping for storage containers, consider:
What it will be used for.
If storing liquids like soup or sauces look for airtight lids that create a good seal.
For dryer goods like pasta or cereal look for options with larger openings so you can easily grab what you need each time.
MAKE USE OF WALL SPACE
Creating more storage space in a home can be challenging, especially when there is limited floor and counter space. However, walls are often overlooked as an area to create additional storage. With a little bit of creativity, wall space can be utilized for a variety of uses!
From shelves to cabinets and magnetic boards, homeowners have many options when it comes to making use of wall space. Shelves are great for storing items like books, picture frames, and other decor pieces.
Cabinets provide more enclosed storage for items that need to stay out of sight such- as cleaning supplies or extra linens. Magnetic boards help you keep documents organized while doubling as an attractive piece on the wall. With all these options available it's easy to create functional yet stylish designs using wall space throughout the house.
In conclusion, creating a clutter-free, organized kitchen is important for any apartment dweller. Whether you want to save precious counter space or take advantage of the best storage solutions, it's important that you invest in the right kitchen essentials. Pay attention to where and how you store your items, and opt for multipurpose equipment when you can.
Prioritizing practicability as well as aesthetics will make for a stylish and modern kitchen. As well as buy you more time to enjoy cooking delicious meals in a clutter-free environment.