We're an affiliate
We hope you love the products we recommend! Just so you know, when you click and buy through links on our site we may earn an affiliate commission at no extra cost to you. Thank you if you use our links, we really appreciate it!
Are you looking to rent a new apartment? Choosing the right apartment style for your needs can be stressful. However, don't let this stop you from finding your dream home – with the right knowledge, selecting an apartment that suits you perfectly is easy. Apartment hunting involves more than just picking a place – it takes careful consideration, planning, and dedication to finding the right spot for you. With this article, we will discuss strategies to help make your apartment-hunting journey a success!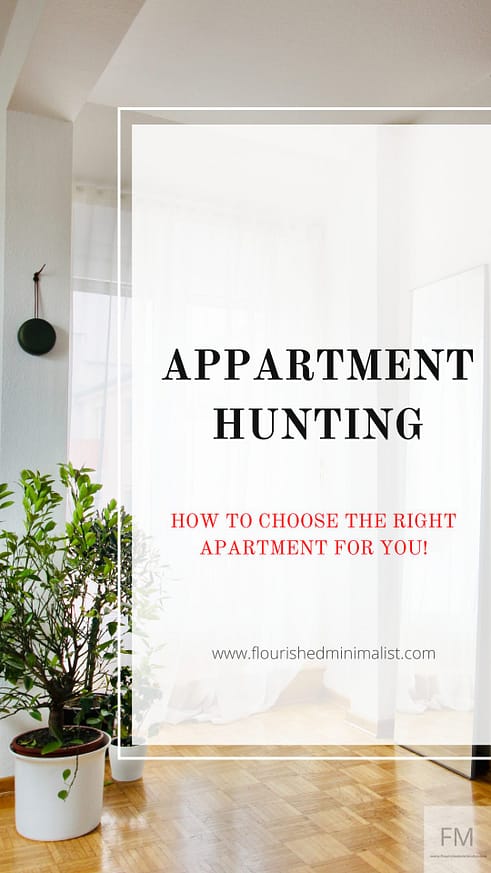 CONSIDER YOUR LIFESTYLE
Before making any decisions, think about what kind of lifestyle you want.
And what features are important to you in an apartment. Consider factors like size, amenities, location, and cost when choosing which type of apartment is best for your situation.
There are so many different types of apartments available, from high-rise buildings to single-family homes, each with their own advantages and disadvantages. It is important to do your research and find the best apartment for you before moving in.
The type of apartment will also affect how much rent you are required to pay. Typically, the more amenities the apartment has, the higher the rent.
Once you have narrowed down your choices, it's time to start doing some research! Look into each option thoroughly so that you can make an informed decision.
IDENTIFY YOUR KEY NEEDS
Additionally, it's important to identify your key needs. Taking time to determine your lifestyle and comfort level can help narrow down the many options available.
Start by assessing your living requirements – do you need extra space for visitors or work?
Is privacy important?
Do you prefer more open floor plans or separate rooms?
Consider amenities as well; what kind of appliances do you need and do they come with the unit? Once these questions have been answered, choosing an ideal apartment style becomes much easier.
Take into account how much space is required and any other features that are essential to making it feel like home.
PREPARING FOR APARTMENT HUNTING
It's important to prepare properly before taking the big step. Here are a few tips on how to get started.
First, determine your budget. This will help you narrow down which areas have apartments that fit within that price range. Make sure it includes not just rent, but also utilities like water, gas, and electricity. Consider what amenities are important for you such as parking or laundry facilities in the building. Knowing what features are essential will make it easier to find the perfect place!
Next, create a list of potential questions for when you visit each location. Ask about security and noise levels as well as any extra costs beyond rental fees such as deposits or application fees.
FINDING THE PERFECT LOCATION
When it comes to finding the perfect location for a new apartment, there are several factors to consider. Before you start your search, you need to evaluate the advantages and disadvantages of different locations. Apartment hunting requires research and patience in order to find that special place you know is just right for you.
The first factor is convenience. Consider how close the apartment is to work or school, nearby shopping centers, transportation options and entertainment venues. It's also important to think about neighborhood amenities like parks and hospitals. Taking into account all these parameters will help you find an apartment that is conveniently located for your needs.
Second, take time to research crime statistics in the area where you're looking to relocate. This will give you an idea of how safe living in a particular area might be and whether it's worth considering or not. Additionally, make sure that the building itself has security systems installed so that your belongings remain safe when away from home.
Knowing what type of neighborhood you want to live in will help narrow down your choices significantly.
REVIEW COST FACTORS
When it comes to choosing the right apartment, the cost is undoubtedly an important factor. It's essential to compare different rental options and review all associated costs before making your decision. From rent prices and security deposits to utility bills and pet fees, there are several cost factors that need to be considered when selecting the perfect place.
Take the time to understand the local market rate for similar apartments in the area. It's important to determine if you can afford a certain apartment based on its location, size, amenities, etc.
You should also be aware of any additional charges such as extra fees for parking or storage space that may apply at certain places. Make sure you have a clear understanding of all applicable costs before signing a lease agreement so that there are no surprises down the line.
Consider your budget carefully; do not overextend yourself financially on rent because it will only lead to further stress down the line.
BUDGETING FOR YOUR APARTMENT
Budgeting for your apartment can be intimidating. With the costs of rent, utilities, and necessary furnishings, it may seem overwhelming to find a balance between comfortable living space and financial security.
However, with the right information and preparation, you can make sure that your budget is realistic and achievable.
First, you should start by taking stock of all of your expenses: rent/mortgage payments, utilities (including phone/internet bills), food costs, transportation costs, and any other regular recurring payments that you may have.
Next, add up all of your sources of income; this includes wages from employment as well as any income from investments or other revenue sources.
Once you have taken inventory of both sides of your finances, subtract the total cost of expenses from the total source of income to determine how much money you will have left over each month after paying for essentials.
When furnishing your apartment on a budget;
A rule of thumb you can use to set a furniture budget is to take your baseline monthly spending needs and multiply that figure by three. For example, if your regular monthly budget totals to $4000 a month, you multiply by three to get $12000.
This is the amount you should aim to have in savings to cover any unexpected expenses when you move in.
Whatever you have above this amount is what you should spend on furniture for the first round. Then whenever your savings get above that three-month mark again- allow yourself to buy that next round of furniture for the next room.
Also, It pays to shop around for deals. Start by looking at secondhand stores or thrift shops for furniture pieces like couches and chairs. Second-hand furniture items have usually been gently used and can potentially save you hundreds of dollars in comparison to buying from retail stores or online outlets.
Additionally, start by focusing on what furniture is absolutely necessary before adding decorative touches such as wall hangings or rugs.
A great budget tool is extremely helpful during this process. Find one here.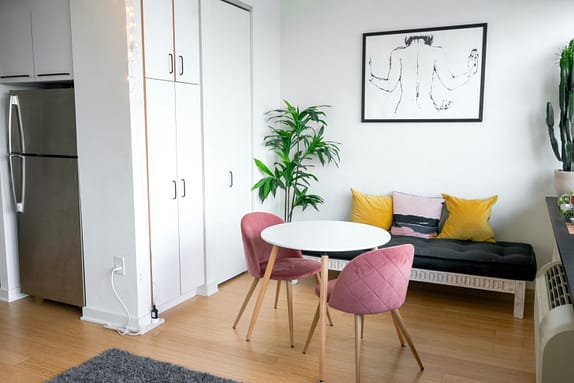 TOURING PROSPECTIVE PROPERTIES
For those looking to move into a new apartment, touring prospective properties is an important step during apartment hunting.
This can help you decide which apartment is right for you taking into consideration factors like location and amenities.
However, it's also important to know what to look out for when touring prospective properties.
 By doing your research and being prepared, you can make your touring process much simpler.
The first step is to make sure that you know exactly what you're looking for in terms of size and amenities.
Also, having a general idea of what kind of budget you're working with will also be extremely helpful.
 Think about how many bedrooms and bathrooms would be ideal for your lifestyle, as well as any extra features like in-unit laundry or outdoor space that may sway your decision.
Another good idea is to pay attention to whether the building appears clean and well-maintained.
It's also important to make sure all of the features that are listed on the lease agreement – such as heating and air conditioning – are present and functioning properly.
Additionally, see if there are any extra amenities offered by the landlord that could improve your quality of life- Ask about helpful services such as maintenance staff availability as this information will be useful when making your decision.
Once those details are figured out, it's time to tour! Doing so will give you a better feel for each apartment complex and allow you to narrow down which one best fits your needs.
CONSIDER SIZE & LAYOUT
When choosing an apartment, size, and layout are two of the most important factors to consider.
The square footage of the space is a primary concern, as it will determine how well you can accommodate your furniture and décor.
Also, the layout of the apartment must be considered – does it flow logically from one room to another? Are there enough windows for natural light?
Whether you're downsizing or upscaling, understanding exactly what type of space you need is essential in making an informed decision.
If you're unsure about which size is right for your needs, take time to measure out dimensions on paper or digitally before visiting a showroom or touring potential apartments. Doing this will make it easier to visualize what pieces will fit into each room and get an accurate idea of how much available storage space there is.
Furthermore, It's important to determine what type of layout works best for you. Do you prefer a more open-concept feel or separate rooms? How many bedrooms do you want? Do you need additional storage spaces? All of these questions should be taken into account when looking at potential apartments.
Keep in mind that an apartment's size isn't solely determined by its square footage; large windows, high ceilings, and creative use of accents can make a smaller area look spacious.
ASESS AMENITIES & UTILITIES
During apartment hunting, it's important to assess both amenities and utilities.
As these will have a direct impact on your day-to-day life in the new space.
Make sure you check if all the necessary facilities are up to date and in good working order: from electricity, water, and gas supply, to air conditioning units, dishwashers, and other appliances.
Also, consider whether the apartment has any special features or comforts like balconies or terraces that appeal to you — they may not be essential but they certainly contribute to your quality of life!
When assessing amenities and utilities, it is critical to have a comprehensive approach. Evaluating these elements will help you determine what your needs are, and how they can be met.
NEGOTIATING WITH LANDLORDS
Negotiating with landlords can be a daunting task, but knowing your rights as a tenant, and how to effectively communicate with landlords will help you secure an apartment for a reasonable price.
Start by gathering all the necessary documents. This includes current financial information, such as pay stubs or bank statements – this will prove that you have the means to make payments on time and in full.
On top of that, having references from past landlords or employers can help build credibility and trustworthiness. Once you have gathered all documents needed, it's time to start negotiating!
MOVING INTO YOUR NEW HOME
Moving into a new home can be both exciting and stressful. As you prepare to make the transition, it is important to take the necessary steps for a seamless move.
If you are moving into an apartment, there are several items that must be taken care of before settling in.
To begin with, renters should contact the landlord to fill out paperwork and arrange for rent payments.
Additionally, renters should contact utility companies such as electricity, water, and internet providers to set up service in their name prior to move-in day.
It is also important to inform your bank or post office of your change in address so mail delivery isn't interrupted.
Take time during this process to research insurance options-Such as tenant liability insurance so you're covered if any accidents occur inside the apartment property or any other possessions are damaged due to unforeseen circumstances.
In conclusion, apartment hunting can be an exciting process. With a little bit of research and preparation, you can find the perfect place to call home. Don't get overwhelmed by all the choices-use this guide to narrow down your options. And make an informed decision. When you find the right fit, you'll know it.
You might also like: