We're an affiliate
We hope you love the products we recommend! Just so you know, when you click and buy through links on our site we may earn an affiliate commission at no extra cost to you. Thank you if you use our links, we really appreciate it!
Do you want easy dinner recipes that are both delicious and require minimal cleanup? Look no further! One-pot meals are a great option for busy nights, as they only require one pot to make and many don't even need to be cooked. These recipes are sure to be a hit with the whole family!
From creamy macaroni and cheese to hearty beef stew – there's something for everyone. Not only do these dishes save time, but they also leave you with fewer dishes than traditional cooking methods. What could be better? So get excited for your next dinner by trying out one of these quick and tasty one-pot meals! With minimal fuss and maximum flavor, it's sure to become one of your favorites.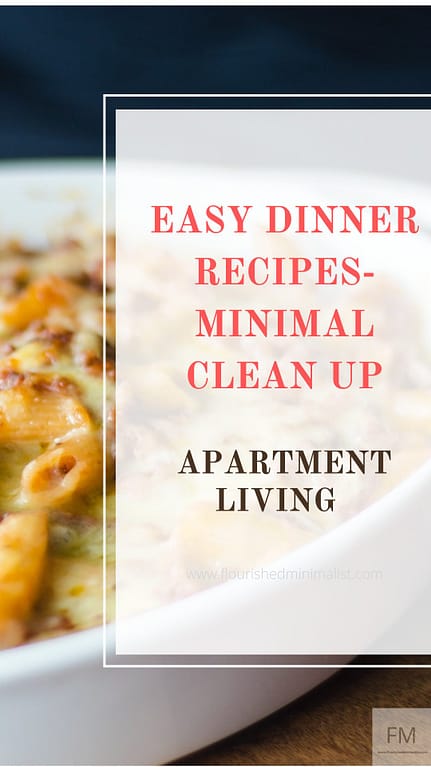 Spicy Sausage and Pepper Pasta
If you're on the hunt for delicious and easy dinner recipes, then look no further than this spicy sausage and pepper pasta! This tantalizing dish is sure to satisfy even the pickiest of eaters. Perfect for busy weeknights or when you want something flavorful and comforting, this pasta dish is sure to become a family favorite.
This simple and tasty dish comes together quickly with only a few pantry staples.
Start by sautéing some Italian sausage in olive oil until it's lightly browned.
Then add bell peppers, garlic, chili flakes, and onion into the pan for additional flavor.
The veggies will cook down in minutes before adding your favorite kind of noodles to the mix.
Finally, finish off with some tomato sauce to bring everything together – voilà! This scrumptious meal is ready in less than 30 minutes.
Easy Chicken Fajita Skillet
This one-pan meal comes together in under 30 minutes, making it perfect for busy weeknights. It's also a great way to use up leftover chicken if you have it.
This simple dish starts with cooked chicken, bell peppers, onion, and mushrooms sautéed together in a skillet.
Then everything is seasoned with classic Tex-Mex flavors like chili powder, cumin, garlic powder, and oregano.
To finish it off, add some fresh lime juice to brighten the flavor of the fajitas.
Serve them on warm tortillas with your favorite toppings like guacamole or sour cream!
Hearty Beef  & Bean Chili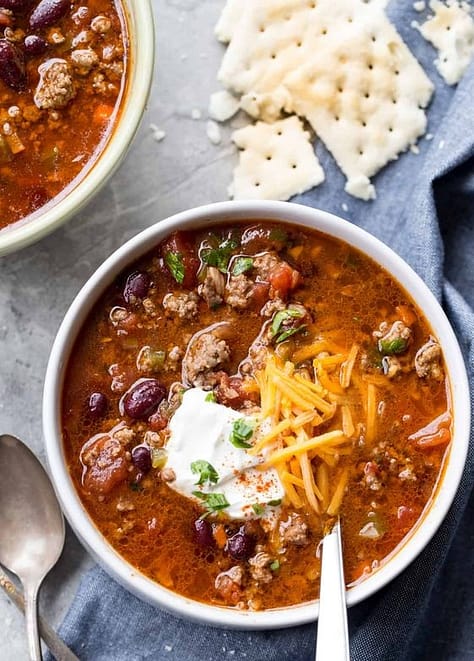 This Hearty Beef & Bean Chili is sure to have your mouth watering and your belly full! This chili recipe has all the essential ingredients for a flavorful, comforting, and filling meal.
With ground beef, beans, tomatoes, onions, and spices you can't go wrong with this classic dish! Plus it's simple to make – just throw all the ingredients into a pot or slow cooker and let simmer until done.
The smell will be enough to get everyone in the family around the dinner table in no time! Serve up some warm cornbread on the side and enjoy a hearty meal that will leave you feeling warm and satisfied. So don't wait any longer – add this Hearty Beef & Bean Chili to your menu tonight!
There you have it, easy dinner recipes one pot meals are a great way to make delicious and nutritious meals that your family will love. With minimal effort and time, you can make something everyone can enjoy. Plus, the clean-up is a breeze! So why not give it a try? The next time you're looking for an easy meal, these tasty one-pot recipes are sure to be a hit. Get excited about cooking something new and be sure to have fun in the kitchen! Bon appetit!
P.S.  If your apartment kitchen is feeling cluttered and cramped, it's time for a change! Refresh your space with the essential tools that will help you keep your kitchen organized and clutter-free. From drawer organizers to cutting boards with storage drawers, these must-have items can make all the difference. Discover the perfect solutions for a clean and tidy apartment kitchen now!