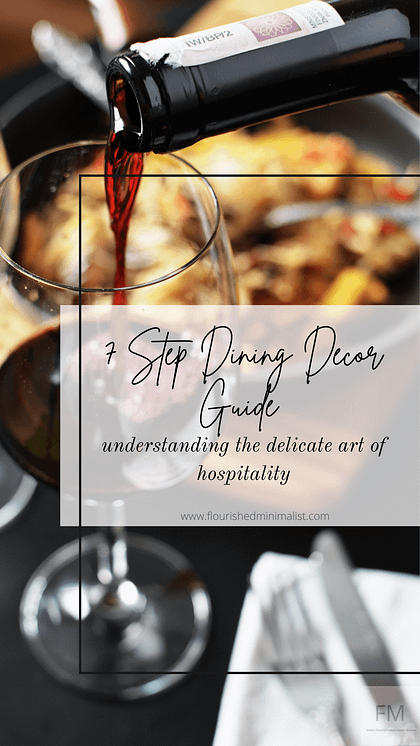 Firstly before we indulge in all the beautiful dining decor ideas; I would like to begin this post with a story…
The story of my father's table.
It was really never a particular table. Rather it was wherever my father chose to host his family and friends. Whether that be at his beloved round dining set that sat in the heart of the living room.
Or that one particular table at one of our family favorite Restaurants.
It did not matter; The fond memories are the same- of deep laughter, storytelling, and bonding.
See, where I come from (And any African family will relate to this.) It is tradition for the parent figure to be revered and deeply respected or feared. Typically the parent is the authority and the child's job is to obey with no question.
But somehow at the dining table; these lines are often blurred; Here the children open up and parents become more responsive towards their children over a plate of well-prepared matooke. I guess what they say is true food has a way of bringing people together.
And so was the case in my father's household; His Dining table was where family conflicts were resolved, friendships forged and strategies(especially by us children) came to fruition.
It bridged the gap between us and them.
DINING DECOR ESSENTIALS: GET THE LOOK
Large Horn Vase: shop at asili
Nero Marquina marble dining table: shop from chairish
Pour Bowl Nesting Trio : shop from suite one studio
Place Mat: shop at dixie
THE DEEPER MEANING OF HOME HOSPITALITY IN DINING DECOR
Now that am older and have a family of my own. I see this influence in my own home; family meals are a priority and a BIG DEAL! This comes from an understanding of a deeper connection between hospitality and the soul's state of being.
It's more than just about the beautiful tablescapes that adorn our dining tables or how big or small it is. Even less about what materials and textures we choose this significant table to be.
But more importantly  about edifying the souls of those that choose to gather there;
Look at it as some sort of echo of The Lord's Table- where our spirits are edified; Hospitality at its core is really a precious gift to share in empathy, generosity, love, and joy with those that we open our homes to… and those that live there.
As well as an opportunity to find the eternal in every day.
The dining table is where family, friends, and strangers alike are made welcome.
Well, I hope this decor guide does more than just inspire your creative genius but also invites you to a deeper understanding of the delicate art of hospitality. And how important it is to prioritize family dinners to feed the body and the soul.
To Evermore clearly see the dining experience from a different perspective; from the perspective of being present. Where nothing else matters but the laughter and memories you are making with your loved ones.
FUNDAMENTALS OF DINING DECOR AND STYLING
BEGIN WITH PURPOSE AND PRACTICALITY 
Think about the purpose of the dining space and how you intend to use it. This should be given priority before you pick out any kind of furniture or décor pieces. Designing with purpose will save you from a lot of clutter and useless purchases.
More importantly, keep in mind function when deciding on the materials and styling items. For instance, natural materials that age well like wood, stone, and linen are ideal for a family with kids. Because they are more stain friendly along with being resistant to wear and tear.
CONSIDER ERGONOMICS
Similar to the step before; When choosing your dining furniture, the comfort of your loved one's matters. Therefore style it with great consideration of the human anatomy as well as an understanding of human behavior. Make sure to leave enough room for people to maneuver, seat, and be comfortable. As well as make eye contact when having a conversation over a meal.
PROPORTION AND BALANCE ALWAYS MATTER
The biggest deciding factor of the shape and size of your dining table is the size and layout of your dining room. Make sure to do your due diligence and take measurements to avoid future mishaps of a malfunctioning dining set. Or one that does not quite fit the size of your dining room.
USE FEATURE LIGHTING IN YOUR DINING DECOR
In consideration of all the activities that take place in your dining room; Look at your lighting in three layers. That is general lighting- this could be the ceiling light.
Functional lighting-these are table and floor lamps
And thirdly ambiance/intimate lighting for example candles or wall sconces that create intimacy and warmth.
Because the dining room(next to the kitchen) is the heart of the family –bringing family members together, it is important that it is well lit to serve its purpose.
CREATE SPECIAL MOMENTS USING FOCAL POINTS
These focal points will help ground the space and give it soul. For instance, candles or lamps placed on top of a buffet against a mirror on a focal wall will create intimate drama and warmth for those special occasions. Further creating euphoric moments for your loved ones and guests to indulge their 5 senses and deeply experience the room.
ACCESSORISE WITH MEANINGFUL DECOR
This could be deep inspirational coffee books, photo albums with special fond memories, or souvenirs from favorite travel destinations that your guests and family can engage with before or after dinner over a glass of wine. To savor the moment.
Keep it special.
DO NOT IGNORE STORAGE
Storage is key when it comes to dining decor. So consider a beautiful buffet or sideboard for all the table décor, cutlery, and extras like games for the game night. This will keep the clutter away and protect your precious dinnerware.
DINING DECOR ESSENTIALS: GET THE LOOK
Vintage Round Wicker Dining Table: shop at chairish
DINING DECOR ESSENTIALS: GET THE LOOK
Tulah Chair: shop at Chairish
Breccia Pernice Marble Table: shop at Chairish
DINING DECOR ESSENTIALS: GET THE LOOK
White Milk Ceramic Pottery: shop at Chairish
Breccia Pernice Marble Table: shop at Chairish