We're an affiliate
We hope you love the products we recommend! Just so you know, when you click and buy through links on our site we may earn an affiliate commission at no extra cost to you. Thank you if you use our links, we really appreciate it!
A Vintage party = Fun Nolstalgia
This kind of party is just the right excuse to indulge in a little nostalgia and fun. It is the perfect theme idea for any kind of occasion. Whether that be a Wedding Anniversary, New Year's Eve Party, or a Special holiday like Christmas and  Easter.
Here are flourished Minimalist's top 6 tips for a perfectly charming Historic party.
CHOOSE AN ERA
There is plenty of inspiration when it comes to vintage-themed parties. You can choose to draw from the artistic, political, Renaissance, the roaring 20s, 40s, or the rock n roll  50s.
The choice is yours really to choose whatever era excites your creative genius. Then build a theme around it.
Here are some mood boards to inspire you.
MOOD BOARD: A RENAISSANCE GARDEN PARTY THEME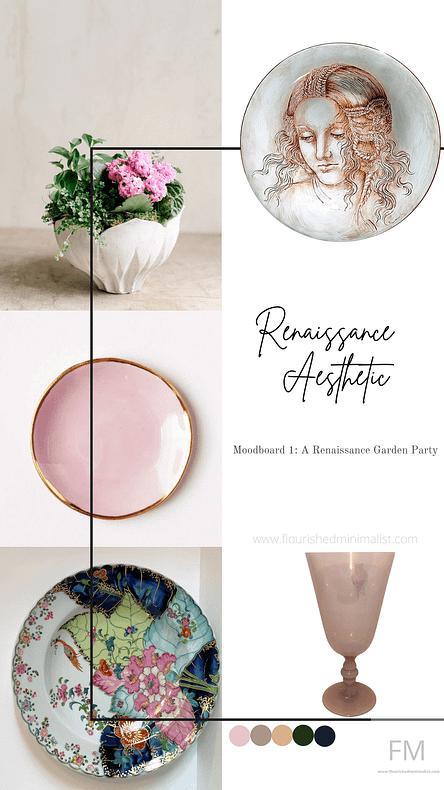 Plante a Fleurs: shop on Les Fleurs
Renaissance Leonardo Noblewoman Wall Plate: Shop on Chairish
Ring Dish in Rose With Gold Rim: Studio one studio
Vista Alegre Tobacco Leaf  Porcelain Rimmed Soup Bowls: Chairish
A 1930 Pink Murano Glass Goblet by Vnc: Chairish
MOOD BOARD: AN ART DECO AESTHETIC
Dried Flower Bunch Salted Caramel: shop at Trouva
Art Deco Ceramic Horse: shop at Chairish
Jasmine & Sage Soy Candle: shop at EmberandPineCo
Wine Glass: Chairish
PICK A COLOUR SCHEME
Once you have settled well in on your theme, picking a color scheme should be a walk in the park.
I suggest using the three clour rule for a more simple and effortless look. This simply means using one dominant color as your main color;  Then slowly adding small amounts of any two accent colors you like in the details, patterns, and textures of your decor.
An example would be a 1920s party; Where Black and Gold are a must.
In this case, black would be the dominant color, and then gold and red would then be an accent.
Having this approach will greatly simplify your decorating process.
A RENAISSANCE  COLOUR SCHEME
A RENAISSANCE COLOUR SCHEME: EARTHY TONES
A VIBRANT ART DECO GARDEN PARTY COLOUR SCHEME
CHOOSE AND SET THE SCENE
Vintage parties are often held in gardens or halls.
But that does not stop you from having a cozy vintage party in the comfort of your own home.
All you have to do is set the scene. This will depend on the theme of your party.
You can choose to set it up in your backyard or dining room. For example, a Renaissance garden-themed party would obviously be held in your compound or backyard.
While a 1920s intimate costume party would make much more sense in a cozy environment like a living room or dining area.
BRING ON THE SOPHISTICATION
Especially for the more cultured eras like Art Deco. Don't shy away from Going All Out when it comes to the décor, food, and dress code.
It's all about the EXPERIENCE for your guests.
So make it memorable and fun! For example, have some sophisticated European dishes like shrimp cocktails on your menu. Or have your guests wear costumes to the party. Even secret passwords; Will greatly elevate the event, transporting you back in time…to particular tastes, smells, and feels of an era
A NEW YEAR'S EVE  PARTY COLOUR STORY
AN ART DECO GARDEN AFFAIR COLOUR STORY
AND ALL THAT JAZZ
Play your favorite tunes of that era. Or even more exciting, you can have a vintage silent movie playing on a screen in the background; To really set the mood for your Get Together.
DON'T FORGET TO GIFT
Give something special to your guests to remind them of the evening. This item can be incorporated into the table décor or given to the guests as they live the party.
Vintage Tea Trips Dublin: Vintageteatrips
Wine Glass: Chairish
Art Deco Ceramic Horse: shop at Chairish
Jasmine & Sage Soy Candle: shop at EmberandPineCo
Goblet: Chairish
God Bless.