We're an affiliate
We hope you love the products we recommend! Just so you know, when you click and buy through links on our site we may earn an affiliate commission at no extra cost to you. Thank you if you use our links, we really appreciate it!
The second half of the year is here!! And if you are anything like me you are probably already making plans for your family Christmas dinner party/New Year's Dinner. For our minimalist social butterflies- Don't let your small space stop you! Here are 5 simple tips and tricks on hosting great gatherings in a small space. You can use them together with our Events supplies and organization cheat sheet to simplify your preparation and planning process. Get ready to impress your guests and create unforgettable experiences while still saving time, money, and storage space!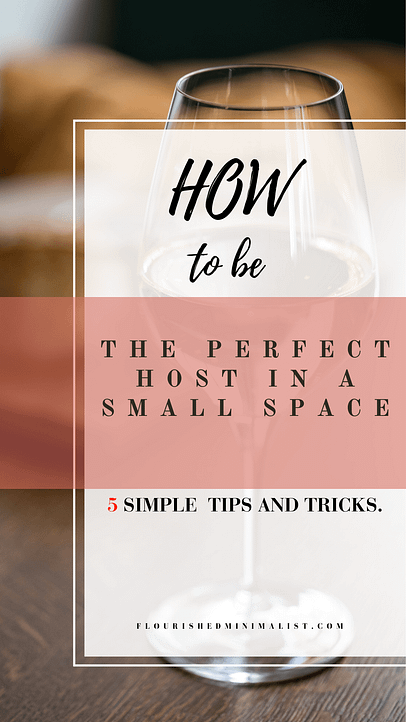 A Minimalist Guide to Great Hosting
1. INVEST IN NESTING OR FOLDABLE FURNITURE
These can easily be stored away when not in use to maximize your space for other activities. Not only is foldable furniture great for space but it also provides flexibility in arranging your event space.
  2. CONSIDER ALTERNATIVE SEATING OPTIONS
Instead of traditional chairs, consider floor cushions, poufs, or ottomans that can provide extra seating without taking up much space. These can also be used as decorative elements to enhance the ambiance of your event.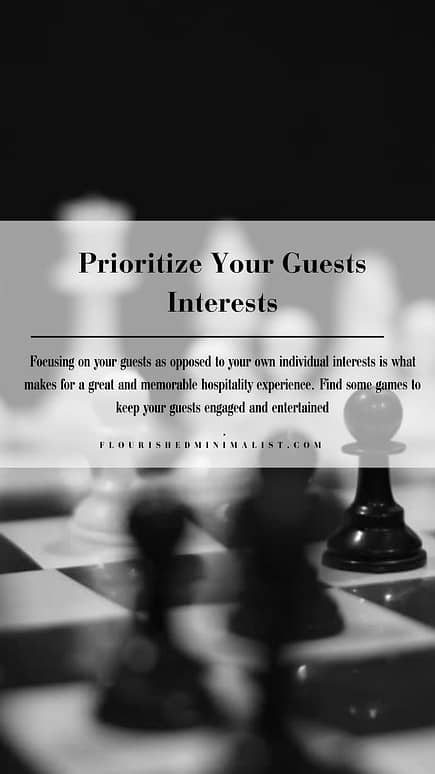 3. UTILIZE VERTICAL SPACE
Make use of wall-mounted shelves, hanging organizers, or hooks to store and display items such as decorations, supplies, or even food and drinks. This will free up valuable floor space and keep everything within easy reach.
   4. OPT FOR MULTI-FUNCTIONAL DECORATIONS
Choose decorations that can serve dual purposes. For example, you can invest in beautiful multi-purpose glass serving ware that can be used as a centerpiece for your tablescape as well as functional serving dishes. This way, you can save space by eliminating the need for separate decor items and serving ware. Additionally, consider incorporating scented candles in your decor that will serve as beautiful ambient lighting for your dinner party- But also act as a signature scent that will linger in the memory of your guests even after the event.
   5. UTILIZE OUTDOOR SPACE
If you have a balcony, use it as an extension of your hosting space. Set up a small table and chairs, or even just some comfortable seating, to create an outdoor lounge area for your guests. This can be a great way to add extra space and variety to your dinner party.
Consider adding some string lights or lanterns to create a cozy ambiance in the evening. You could also place potted plants or flowers on the balcony to bring in some natural elements and make it feel more inviting.
Hosting Supplies Cheatsheet
1. On the Go containers
Cleaning up never got easier!!! Washing a full sink of utensils is not Life! Why not give your guests their own dinner plates they can take home with them so they don't have to flood up your sink- Two wins, they get to have leftover breakfast the next morning so they can sleep in. And you get your well-deserved rest for being a good host.
Find these at;
2. Table linen
These make cleaning up easy because you can effortlessly be folded and tossed in the washer without worrying about wiping your dining table. Plus they protect the table from stains and scratches. Find these at
3. Hosting Multifunctional Serving Trays/Storage Boxes
When hosting in a small space opt for versatile serving trays that can double as decorative pieces or storage solutions when not entertaining guests. Find these at;
4. Multi-purpose glass serving ware
These are reusable and timeless. They are also versatile and can be used in any event theme and style to display flowers or any food supplies. Here are some of our favorite options that hit the criteria of functionality and great style.
Engraved crystalline water glass
5. Dried flowers and branches
These are a great option because they can be reused after the event as your coffee table top or kitchen island decor. Here are some great options for you to check out.
6. Statement candle.
You can use these for ambiance and scent.
7. Bamboo folks and knife gift set
You can monogram these and give them as gifts for the guests to remind them of the evening. And, they can also be used as utensils  at the dinner table
You might also like Quick and Easy One-Pot Dinner Recipes.
With Love– Dolorese.