We're an affiliate
We hope you love the products we recommend! Just so you know, when you click and buy through links on our site we may earn an affiliate commission at no extra cost to you. Thank you if you use our links, we really appreciate it!
Gardening enthusiasts know how difficult it can be to make a small outdoor space look attractive and inviting. If you are looking for ways to brighten up your garden decor, then this article is for you! Here we will explore five trending, stylish ideas that will bring life to your small garden and help you create an ambient atmosphere. From lighting to furniture and planters, these ideas will inspire creativity in anyone who loves spending time in their outdoor spaces.
1. COLOR
Go bold in your small  garden this season by blending radiant colors with neutral shades such as white or grey. This will create a balanced look that adds vibrancy without overwhelming the space. This trend is easy to achieve by selecting colorful cushions or throws for outdoor furniture or painting plant pots in striking shades of red, yellow, green or blue.
Another popular trend this season is creating an ombre effect using different shades of one color. This technique works well when planting flowers in pots or beds as it creates a gradual transition from light to dark hues.
GET THE LOOK FOR YOUR SMALL BALCONY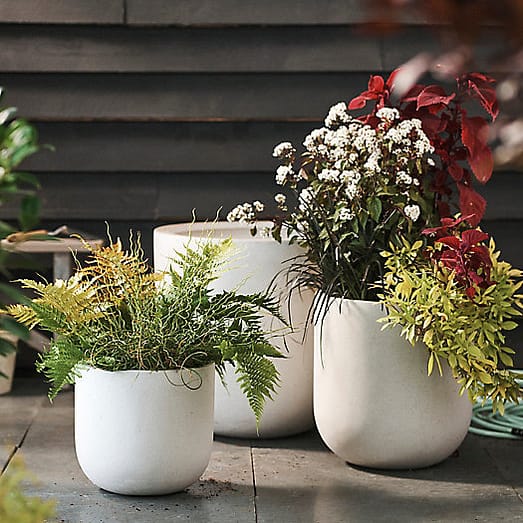 2. METALLIC  FURNITURE
Metallic furniture is a great addition to any garden decor. Not only does it provide an elegant and modern look, but it also offers durability and resistance against the outdoor elements. There are several types of metallic furniture available in the market that can fit your garden's style and theme.
One of the most popular types of metallic garden furniture is aluminum. It is lightweight, easy to clean, and resistant to rust and corrosion. Its sleek design makes it perfect for contemporary or minimalist gardens. Another option is wrought iron furniture which is known for its sturdiness and classic appearance. It comes in various intricate designs that can add a touch of elegance to your garden setting.
For those who prefer a more industrial look, steel furniture may be the best option. Its rugged appeal makes it perfect for urban-style gardens or patios with exposed brick walls or concrete flooring.
Subscribe to the blog for exclusive tips, guides, and checklists to set you up for more convenient and stylish apartment lifestyle.
GET THE LOOK FOR YOUR SMALL BALCONY
3.FIRE PITS
Fire pits are the perfect addition to any garden decor. Not only do they provide warmth and a cozy atmosphere, but they also add an element of style to your outdoor space. Whether you're looking for a traditional wood-burning fire pit or a modern gas-powered one, there are plenty of options available to suit your needs.
When choosing a fire pit for your garden, it's important to consider the size and shape of your outdoor area. Especially in a small space- A small patio may require a compact fire pit that won't take up too much space. CB2 has great options.
It's also worth considering the materials used in construction – from rustic stone to sleek stainless steel, there's sure to be something that matches your personal taste and aesthetics.
GET THE LOOK 
4. ARTISTIC LIGHTING
Artistic lighting can be a powerful addition to any garden decor theme. With the right lighting techniques, it's possible to transform an ordinary garden into a breathtaking space that comes alive when the sun goes down. Whether you're looking to highlight specific features of your garden or create a warm and inviting atmosphere for outdoor gatherings, there are many options available when it comes to artistic lighting-Even for small spaces, online shops like shopterrain.com and Bover have some great outdoor options.
One popular choice for garden lighting is the use of spotlights and accent lights. These types of lights are ideal for creating dramatic effects by highlighting specific plants, trees or architectural features in your garden. By placing these lights strategically throughout your space, you can draw attention to key areas of interest
GET THE LOOK 
5. STONE POTTERY AND FURNITURE
Lately, stone furniture has been a popular trend for the outdoors. There's a wide variety of stone decor available in the market from Stone pots, fountainheads, birdbaths, benches, tables, and chairs. These are all excellent options for creating a beautiful garden environment. And can transform your outdoor space into an oasis of tranquility while still providing practical benefits like seating arrangements or bird habitats.
From classic designs to modern styles, Stone pottery and furniture is durable and long-lasting; they're made from resilient materials that withstand harsh weather conditions. This makes them ideal for year-round use without worrying about wear-and-tear or maintenance expenses.
GET THE LOOK 
In conclusion, small gardens can be as beautiful and inviting as any large outdoor space. With a few smart decorating touches, you can easily transform your small garden into a stylish outdoor paradise. The key is to choose pieces that are low maintenance, durable, and suit your personal taste. From minimalist mid-century modern designs to bold statement pieces, there's something for everyone in our top five trending small garden decor ideas. So why not get creative and start creating your perfect outdoor oasis today!