Small apartments do not have to feel dingy and crowded. They can also be luxurious. Here are 17 design steps to luxury small apartment living.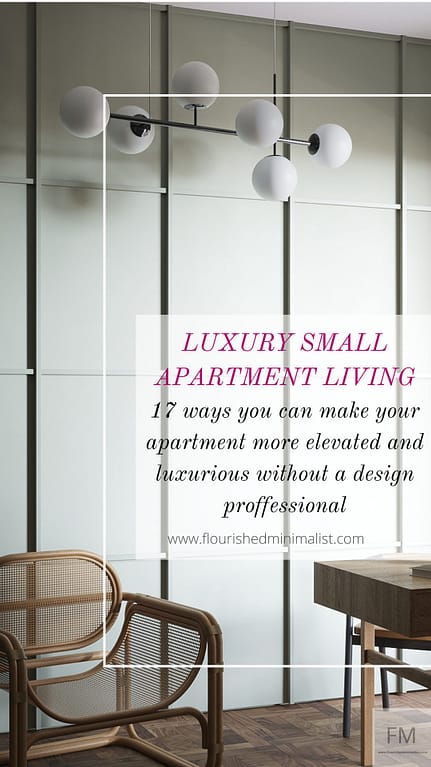 PAINT YOUR CEILING TRIMS AND CEILING THE SAME COLOUR AS YOUR WALLS
This will draw the eye up as well as give your apartment much-needed visual height. Which in turn makes it feel more elevated and luxurious.
       2. CHOOSE ONE TYPE OF FLOOR FINISH FOR YOUR WHOLE ENTIRE APARTMENT.
This will look more seamless and polished. Furthermore, inviting the eye to move throughout your space without a visual break. Hence giving a perception of a much larger space, as opposed to a limited and confined room.
LIFT YOUR FURNITURE OFF THE FLOOR
Hanging some of your furniture pieces like study desks and side tables on the wall, Or opting for pieces with slightly longer legs will free up floor space. As well as create an elevated look that will feel more luxurious.
INCORPORATE BUILT-INS
Don't be afraid to incorporate custom built-ins in your small space.
This always makes a room feel more intentional and planned.
Additionally, this makes your apartment feel more spacious by keeping the clutter away.
So whenever you can, try and integrate your home appliances like TVs as well as microwaves into some kind of joinery. This will look more expensive and elegant.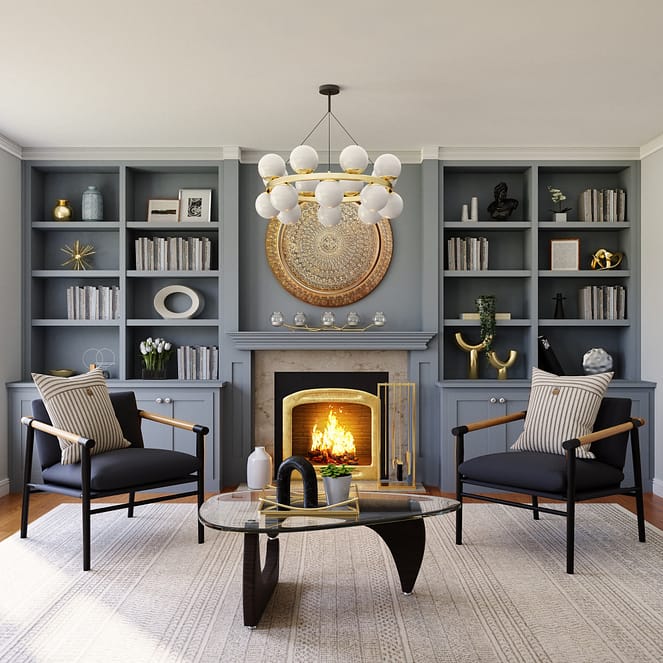 LAYER YOUR LIGHTING
Lighting is critical when it comes to making your small apartment look more luxurious.
Think of your lighting in a group of threes as opposed to using one general light source to light the whole entire room.
For example, use ambient lighting to set the general mood of the room.
And for that cosy feel, use lamps instead of overhead lighting; In addition to task lighting for your more practical spaces like study desks.
If you are interested in learning more about how you can effectively light a small room, here is a link.
KEEP A MONOCHROMATIC TONE
Monochromatic tones in whichever design discipline always look more luxurious without even trying.
Keeping everything in one tonal colour will elevate your space and at the same time make it appear more spacious and bigger than it really is.
Especially if you go for a neutral colour palette like beige, cream and white.
LET YOUR HOME BE COHESIVE
The furniture, artwork and layout of a room should all speak to each other and tell one story.
Because intentionality is key in luxury design.
Curate a furniture collection that speaks to your personal experiences and tastes.
But at the same time, try to keep it within one theme.
So that the message you are communicating about how you like to live is loud and clear; Most especially to yourself but also to those you choose to share your home with.
OPT FOR SCULPTURAL FURNITURE
Use your furniture as artwork in your space.
More so in a small apartment because every square inch matters.
So why not invest in furniture pieces that offer an aesthetic purpose as well as a functional one?
Here are some furniture brands you can check out that serve a unique poetic timeless aesthetic while still being incredibly useful as well as space-saving.
CREATE ART WALLS WITH ART, PRINTS AND POSTERS
Designate one of your walls as an art wall.
Where you can intentionally focus all your photographs, and artworks that have great sentimental value to you.
By doing this you will create a focal wall that will add character and visual interest to your space; Giving your home a dose of sophistication. As opposed to your photographs hanging up everywhere in your house.
For added luxury keep your photo frames or photo mountings in the same colour as your walls.
Or keep your photographs in the same colour filter/ tonal variation.
   10. MAKE A STATEMENT WITH ART, POSTERS AND PRINTS
If you are on a budget, Opt for posters and art prints as opposed to original artworks.
These are generally cheaper but almost give you the same expensive look and personality that artwork would.
It's better than bare walls. And doesn't cost much.
Some great options are poster club and society 6
ELEVATE YOUR EVERYDAY ITEMS
Use your ordinary things as deco not just as functional items.
For instance, make food elements like beans and pasta a little bit more sophisticated by putting them on display on your kitchen counter. Rather than stacking them somewhere in a cupboard.
Also, putting an elevated board next to your sink for your hand wash and dish soap will definitely turn dishwashing into a luxurious moment.
Although you might want to be careful with this if you are living in a small space; Be extremely selective of what you display so as not to clutter.
CREATE INTEREST WITH COFFEE BOOKS
Decorate your kitchen counter and dining table with coffee books.
I find that these give instant style and sophistication.
If you are not in a position to invest in high-style coffee books, there are loads of great budget-friendly options on the market that still give the same feeling of elegance.
GO BIG ON YOUR RUGS
Do not fall into the trap of using a small centred rug in a small room.
This will only make your living room appear smaller.
Try and make sure all four legs of your furniture fit on your rug because this will give the illusion of space as well as feel more luxurious.
DOUBLE STUFF YOUR CUSHIONS
Not only does this give extra comfort but it also looks more premium.
LIGHT SOME CANDLES
There is nothing that says luxury small apartment living than a beautifully scented candle.
Candles are an inexpensive way to give your apartment an instant luxury boost.
Instead of buying another floor lamp or wall sconces for that warm moody aesthetic, try lighting a couple of candles over your mantle or coffee table to make your small apartment more cosy and intimate.
Trust me you will not miss those fancy ambient lamps.
16. CATER TO YOUR SENSE OF SMELL.
In my view, anything that smells good feels more luxurious and memorable.
Invest in a good candle or room diffuser that will freshen up your small apartment and make it smell expensive. A little aromatherapy goes a long way.
INTRODUCE NATURE
Have some kind of floral centrepiece or plant on your dining table and kitchen counter.
Now, this can be an actual plant, fresh flowers or even dry twigs arranged in a beautiful sculptural vase.
Nature is comforting and elegant.
For added flair use large pots and vases that make a statement.
There you have it, 17 practical ways you can achieve luxury small apartment living without hiring a design professional.