When selecting furniture for a minimalist space or tiny home, one has to avoid distraction and clutter. While still prioritizing functionality. This process, though may require the special skill set of an interior designer in some instances is totally attainable with the right guidelines and market sources. These 7 guiding principles are a good starting point when on the hunt for minimalist furniture for your home.
FIRST CONSIDER THE LAYOUT OF THE SPACE
Before you embark on your hunt, do understand your space in terms of its limitations and strengths. Then plan out how you intend to use the space; considering the activities and needs in the home as well as the number of people that will be living there. This will help you come up with a practical furniture layout that will form the backbone of your furniture selection process.
QUALITY
A minimalist furniture schedule means that you are looking for the best deal that there is. Since you are limited to just a few pieces;  durability and good craftsmanship are critical. Do not hesitate to invest in the quality you need as long as it will serve you in the best possible way. BUY LESS BUT INVEST IN MORE.
BUY MULTI-FUNCTIONAL/ MULTIPURPOSE PIECES
Use furniture that has multiple functions and storage capabilities. This can be an ottoman with hidden storage or a TV console that doubles as an office desk. Try to be creative with the furniture to get maximum use out of it.
PROPORTIONALITY
Choose pieces that are proportionally sized to the space and don't overpower the room. But also do not compromise on comfort and warmth.
SCULPTURAL CURVES
Consider your furniture as artwork that tells a story in your home; of the people that live there, their personalities, and tastes. Sculptural furniture gives you that elevated look and sophistication that every minimalist home needs. It gives your home personality as well as creates visual interest.
CLEAN LINES
The main aim of choosing minimalist furniture is to avoid anything that will destruct from the essence of the object. That is to say that the furniture items chosen should be clear in their design and functionality. While keeping ornamentation and bright colors at a bare minimum. Choose light wood accents and a neutral color scheme.
A MINIMALIST FURNITURE COLLECTION SHOULD BE COHESIVE
Lastly, All the pieces in the collection should tell one story. And have the same constructive dialogue, one that is closely connected to your values and you as an individual.
THE BEST MINIMALIST FURNITURE BRANDS
This lineup is sieved through the criteria of unique poetic and timeless pieces that will be sure to make a statement in your home. While still being subtle and straightforward in form, design as well as functionality.
AUDO
AUDO explores the way in which we use space and how design elements can be adapted to serve different functions. With human needs at the center of its designs; This Danish brand goes the extra mile to create lasting relationships between designers, manufacturers, and customers so as to forge a deeper sense of belonging as well as products that stand the test of time.
Our best pick is the Rail Desk- perfect for small spaces and entryways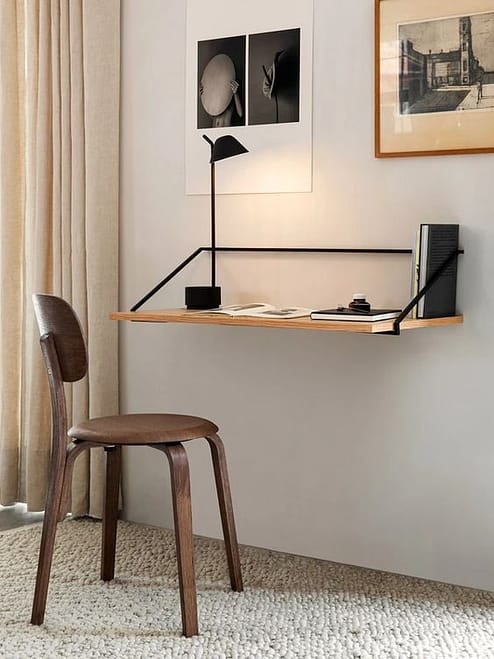 SHOP AMAZON ALTERNATIVES 
Oakrain Multi-purpose wall desk for small spaces (amazon)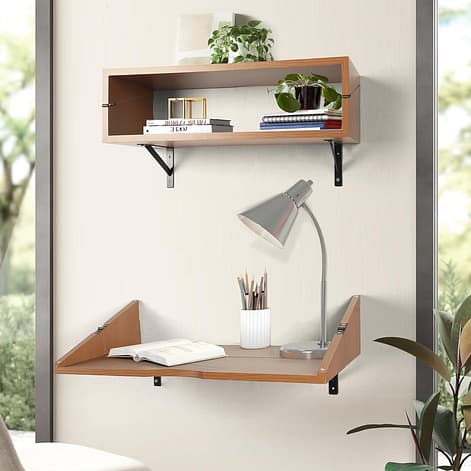 UMBRA
UMBRA is a fun take on minimalism. Their goal is to create modern designs that would be accessible in both price and attitude. With a very versatile collection ranging from furniture to storage; this Canadian-based brand has a passion for creating products for every home.
Our best picks are; the Cubiko Entryway Organiser
SHOP OUR PICK(amazon)
SHOP AMAZON ALTERNATIVES 
MKO mail organizer and key rack (amazon)
Acrylic Magino Stool to add sophistication to your living room and bedroom
SHOP OUR PICK (amazon)
SHOP AMAZON ALTERNATIVES 
Solaround Clear Acrylic Table (amazon)

BLU DOT
This brand finds creative ways to make living and working both easier as well as delightful: Their design focus is purpose. But they do a good job at making utility beautiful. Blue dot is well-suited for that minimalist downsizing to a smaller square foot house and every inch matters; Although there is something for everyone.
Our best picks are; the Souvenir Sofa
For simplicity at its best the New standard 92 sofa is a good option
SHOP AMAZON ALTERNATIVES
For small spaces Vyfipt Futon Sofa Bed/Couch(amazon)
Honbay modular sectional sofa with storage seat(amazon)
DUSTY AND DECO
This is a family-owned deco company whose background is in unique vintage décor items for the collector. If you are looking for an iconic furniture collection then this brand might just be for you. Their pieces are both special and unique.
Our best pick is the sphere round sofa table to make a statement in your living room.
SHOP AMAZON ALTERNATIVE
For a modern sleek look our pick is the homary round coffee table(amazon)

THE  INVISIBLE  COLLECTION
What I do love about this brand is its edgy flair and its museum gallery approach to furniture. Their furniture items are simply art and they are on the list specifically for that minimalist looking for something different and daring yet still subtle. The Invisible Collection takes pride in being The first online platform to sell a curated selection of outstanding pieces by the world's best interior designers. All are handmade by the most talented craftsmen.
Our pick is the Holly Wholly Headboard by Damien-Langlois Meurinne for the Invisible Collection.
SHOP AMAZON ALTERNATIVE
For a Scandinavian look ,the Nathan James Harlow Modern Wall Mount Hanging Headboard is a good option(amazon)
GUBI
GUBI is a design house renowned for designing a daring and elegant collection of furniture, lighting, and interior objects that resonate across the globe. With a visionary collection that spans almost 100 years of History and is sold all over the world. This brand blends forgotten icons of the past together with tomorrow's classics to evoke emotion and tell meaningful stories.
Our best pick is the Pacha Sofa by Pierre Paulin for that iconic look
SHOP AMAZON ALTERNATIVES for tiny spaces 
Acanva Modern Minimalist Sofa (amazon)
Calabash Swivel Barrel Chair (amazon)
ASKOGENG
A sustainable furniture brand that started with a couple's idea to find sustainable solutions for renovating. This concept started in their own kitchen. Which later evolved into a collection of home furniture primarily made out of bamboo. This is good especially if you are looking for unique simple kitchen and closet solutions. Visit ASKOENG
SHOP AMAZON ALTERNATIVE
Jotsport Bamboo Clothing Rack(amazon)
Simple Houseware Garment Rack(amazon)
FLOYD HOME
This brand gives you endless possibilities to put together a variety of textures and finishes to match your needs today. While still presenting you the flexibility to expand over time by adding or swapping out pieces as life evolves. Even better, at the very core of Floyd Home is sustainability, with its design principles centered around solving problems and being more thoughtful about the home.
Our best pick is the modular bed frame. SHOP OUR PICK
SHOP AMAZON ALTERNATIVE
KD Frames Fold Platform Bed(amazon)

KUARTO
This brand is a combination of simplistic and design-forward furniture solutions.  With functionality at its forefront, KUARTO furniture pieces take on a less is more approach to design. That is striping down what a person needs to the simplest form, using the most minimal materials possible. Their principle is to make pieces that blend into life's natural flow without standing out or being too overwhelming. Very  Ideal for tiny spaces and apartments. Visit kUARTO
SHOP AMAZON ALTERNATIVE
Nathan James Theo Modern Book Case (amazon) SHOP HERE
There you have it our top 6 minimalist furniture brands that tick all the boxes of good design.