Lighting is very important in a small interior because it adds another dimension to the room. It can create depth and height as well as give the illusion of space if used correctly. Before we dive into some of the practical steps and secrets to lighting small spaces; Here are some great facts about light to give you a deeper understanding of the topic.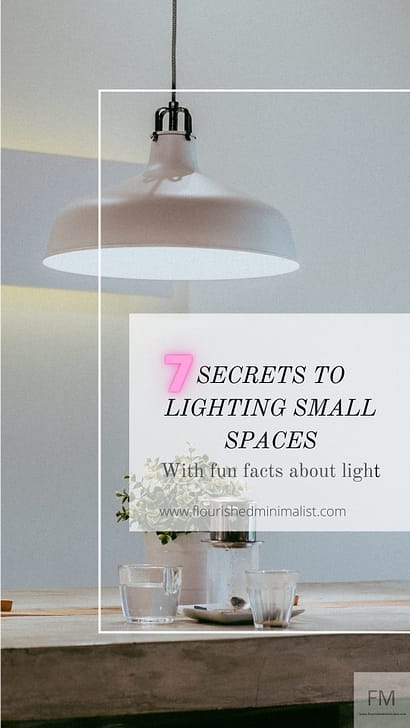 FACTS ABOUT LIGHTING
Light is an electromagnetic wave.
Therefore it can expand and radiate in all directions as well as bend around objects. This element of light helps us make out forms and shapes which in turn aid us in defining objects.
This is especially important to exaggerate or draw attention to the shape of a particular object.
For example, you can put a light source above a beautifully shaped sculpture or behind a round vase to create a powerful visual statement.
Colour is made visible to the human eye by light.
Without any light whatsoever an eye will only see black.
This can only mean that colour is greatly influenced by light.
Hence it is absolutely important to pick a colour scheme based on what amount of light enters your room during the day.
Because a paint colour can seem bright or dull depending on the amount of light emitted within a room
All objects produce light.
According to study.com When the human eye sees an object, it is seeing the light that it is emitting or reflecting and not exactly the object per se.
The interaction of light with matter depends on the frequency.
This is according to livedesignonline.com
More so, light with a longer wavelength has a smaller frequency (since fewer waves pass by in one second) and light with a shorter wavelength has a larger frequency (more waves pass by per second).
It is also important to note that objects create shorter wavelengths as they grow hotter; Thus could eventually look red or white as the shorter wavelength is produced and made visible to the human eye. Ultraviolet light could be produced at even higher temperatures.
Another fun fact is the "golden hour"
The hours just after sunrise and before sunset produce the prettiest shadows and colours that you can capture within your space.
By simply orienting the rooms in your home towards sunset and sunrise depending on functionality. You can capture the most beautiful silhouettes and shadows.
Also, by using understated wall finishes like concrete and clay plasters one can create dramatic interior moments.
7 SECRETS TO LIGHTING A SMALL SPACE
NATURAL LIGHT WELLS
Capture and reflect as much natural light as you can within your interior.
You can use light wells like a frosted glass wall or skylights if you have the luxury of doing so. But also you can harvest natural light in very simple ways like opting for sheers or blinds as opposed to heavy curtains.
Painting your window trims white to reflect as much natural light into the home.
And even incorporating reflective materials such as metal, mirrors and glass within your décor to bounce light around the room.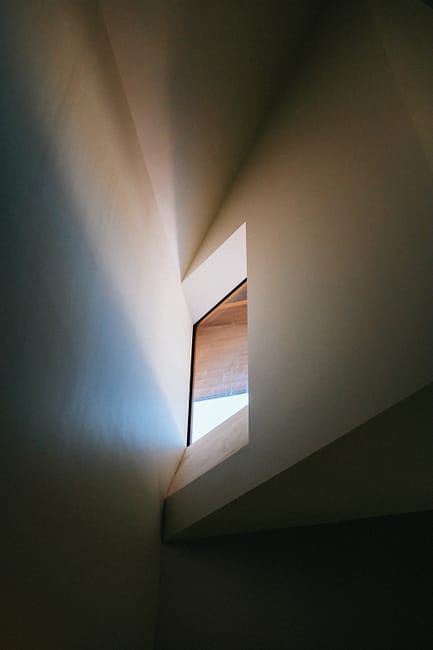 CALCULATE THE AMOUNT OF LIGHT YOU NEED
Before you start looking for the right pendant lights or accents for your space;
You need to know how much light in terms of lumens your space needs.
A quick and simple formula you can follow is multiplying the room square footage by the number of foot-candles required for the space. By doing this, you will have a good foundation on which you can build a more practical light plan.
LIGHT ACCORDING TO FUNCTIONALITY
After calculating the amount of light you need; Have a clear understanding of how you are going to use the space.
For example: is the space for relaxation, study, work or entertainment. So that you can effectively light the room to serve its purpose.
LAYER YOUR LIGHTING
Think of your lighting in a group of three as opposed to using one general light source to light the whole entire room.
Not only is it more functional but also it is more calming to the eye.
Use ambient lighting to set the general mood of the room. And for that cosy feel, use lamps instead of overhead lighting. As well as task lighting for your more practical spaces like study desks.
HIDE YOUR LIGHT SOURCE
By hiding your light source within cabinetry and built-ins, you create depth and interest.
Thus creating another dimension within the room. Which in turn gives the illusion of space.
Also, it keeps your small space clutter free from all the wires and lights that otherwise could be laying around.
WHEN LIGHTING SMALL SPACES GO VERTICAL
Similar to hiding your light source; Opt for wall sconces and wall-mounted lights as opposed to floor lamps. This will keep you from cluttering your much-needed floor space.
COMBINE YOUR LIGHTING WITH REFLECTIVE SURFACES
This will instantly create drama and interest. But more importantly, it is effective in bouncing light throughout your space from just one light source.  For example, a wall sconce mounted onto a mirror. Talk about cost-effective lighting!
Use the 7 secrets to lighting small spaces as a foundational guide to a more practical and functional light plan.