We're an affiliate
We hope you love the products we recommend! Just so you know, when you click and buy through links on our site we may earn an affiliate commission at no extra cost to you. Thank you if you use our links, we really appreciate it!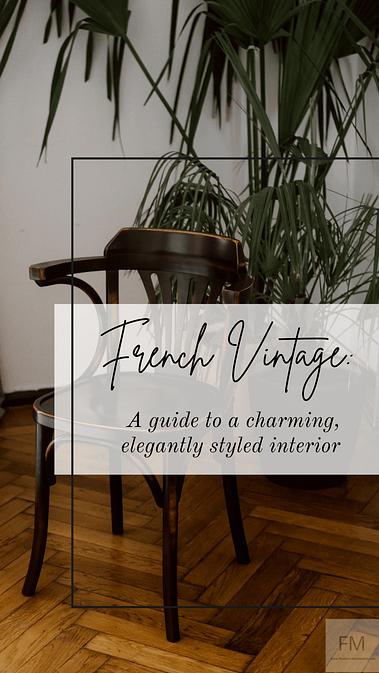 FRENCH VINTAGE = A SOPHISTICATED AND TIMELESS INTERIOR 
From the Renaissance decline and the extravagant Versailles under Louis the XIV of the 17th century to the now practical modern French interior. France has been behind some of the greatest movements that have influenced, shaped, and revolutionized design as we know it today.
The French have indulged and the world has been captivated by their simplicity, sophistication, and sensuality. Elements that if perceived in their pure essence still remain beautiful, practical solutions for our world today.
Especially in the way we choose to live. And what we invest in when it comes to our homes.
There will always be something inherently inspirational and charming about French Interiors.
Known for their taste for pieces that have lived a life already; These style geniuses have mastered the Art of a 'lived-in experience' that tells a story with great sentimental value. Locally termed as "un vécu".
THE LIVED-IN EXPERIENCE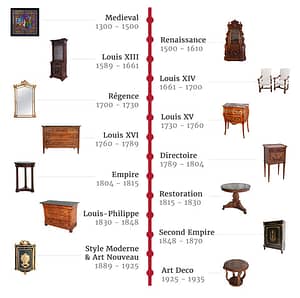 They beautifully style their interiors with antiques. To portray great taste, character, and personality.
This kind of approach is distinctly unique to the curator of the space.
Something we here at flourished minimalist appreciate;AUTHENTICITY
So why not learn from the experts? This guide will explain everything French Vintage; And how to style your home with this charming interior design aesthetic; In this post you will get the Tips, Plans as well as Brands you can check out right now, to create your very own personalized space.
PRINCIPLES OF FRENCH VINTAGE
Les brocanteurs: SECOND HAND IS THE NEW LUXURY
It's all about the antiques when it comes to this style. Which are typically sold in their famous second-hand markets called brocantes. These take place in France during Summer.
Very different from your regular thrift shop; These markets are all about enjoying the search. They have a definitive cozy charm about them.
And are kind of a Big deal.
So next time you are in France, do look out for posters or handmade signs advertising a local brocante; They are a must-visit to find those unique pieces for your home collection.
Also, Here is a guide to help you on your adventure.
But if you are stuck at home for whatever reason, you can simply browse through the internet and find loads of websites that sell French antiques: Chairish, Etsy, and Boutique Maison de champagne are just a few you can find from the ocean available to you.
ALWAYS MIX AND MATCH TO BLEND
The best way to style French vintage is to blend both old and new pieces; The French have an appreciation for both.
This makes for a timeless interior; That strikes a delicate balance between staying true and relevant to the current times but rooted in the classic charm of the old.
Try mixing and matching minimalist neutrals with rich antiques to make a statement. Do check out my free guide on how to style a minimalist modern interior with vintage decor.
EMBRACE IMPERFECTIONS
The French are willing to embrace the imperfections that might be found in old pieces of décor. Because of the meaning behind the defect.
Perfection is intimidating and hard to relate to.
So if you are looking for personality, You want a home that is comfortable and filled with items that tell a story of where they have been. That's special! More importantly, the cracks, as well as chippy patinas, add character to a space making it feel warm and inviting.
IT'S ALL ABOUT THE ROMANCE AND ELEGANCE
There is a sophistication associated with  French interiors and their decorating history that has taken the design and beauty world by storm. French décor has evolved into an aesthetic that can be incorporated in just about any design style. Yes, even in the minimalist interior aesthetic.
You will find that there are a lot of commonalities between the two design styles.
And the two can borrow from each other to create stunning visual dynamics. For example, juxtapositioning different decor pieces and artworks to create a focal point in a room. Or layering textures, architectural details and lighting to transform your bedroom into a Charming, Romantic haven.
Just remember to have Fun while at it;
It's about expressing yourself as well as finding what works for you.
THAT  JE NE SAIS QUOI APPEAL: QUALITY IS EVERYTHING
The element of high quality inside the homes adorned in this style springs from the notion that if you buy well you buy less.
Very typical of the French shopper. It's all about taking your time to find pieces that are well made and can stand the taste of time.
Also, appealing quality is not only tied down to items of furniture or objects of decoration. But also how different elements of design are used in the space to create comfort and convenience. Design Elements like symmetry create balance along with elegance in a room. Two key principles of high-end style.
So, Even though  French vintage décor celebrates imperfections; We do have to consider the beauty that comes with a visually balanced room. Our eyes are naturally drawn to this. Because it creates a point of rest and comfort.
Therefore before you go out vintage shopping try to apply some basic design principles to your already existing home decor. For instance, rearranging artwork on a wall. Or even placing identical items side by side on your mantle; To create that high-quality professional look we all love about French homes.
FRENCH VINTAGE IS ENDURING
French design in its very essence is timeless. This is what makes it resilient.
It evolves with the times.
Thus do keep in mind relevance and applicability if you choose to go this route.
Take the time to educate yourself on the design styles and art movements that have emerged over the years. as well as how they have morphed into fairly recent genres; For example, the likes of Michael Ducaroy's Togo. That has graced the living spaces of celebrities and instagram design lovers. Because of its relaxed and lazy vibes.
Your research will help you define your tastes and values. So as to choose pieces that best describe your personality.
Simply, take your time and enjoy the process.
It is said that the French don't rush.
Selecting meaningful well-curated antiques for your home from a point of knowledge will bring class and sophistication to your interior. As well as elevate your living experience.
But, resist the urge to clutter your home with all kinds of items from different eras and styles. Because this will seem pointless which is totally different from what we are trying to achieve.
REMEMBER  SIMPLICITY &  THAT EFFORTLESSLY chic  STYLE
Don't try too hard! French interiors are never too perfect. Keep that laissez-faire attitude all throughout your interior.
Try not to be strong-headed about one particular style. Let the treasures and sentimental items you find on your travels and vintage shopping sprees shape the style of your home.
Stick to one or two antiques for any given space.
And more importantly, style with purpose!  Ensuring that your living space is unique to your personality, needs, and values
Also, French décor is very sustainable. They love to re-purpose.
So, it is important that you work with what is already there;
Look for what is beautiful and unique about your home so you can accentuate it. All homes have stories; Emphasize existing architectural details. Re-purpose old furniture and floor finishes.
Tell the story of the home! That is what French Vintage is all about.
FUNCTIONALITY & COMFORT OVERRIDES ALL
The French are all about utilitarian design; Functionality is a major factor in their decision-making when it comes to decor.
And they prize comfort overall!
Hence why most French Vintage furniture is ergonomically designed and cozy just about as it is stunning.
Look at it as another excuse to spoil yourself…I mean WHY NOT; Self-care and Self love are part of the French culture.  Therefore make it a point to invest in GOOD DESIGN;
The kind you will enjoy using. As this pays for itself!
A FRENCH VINTAGE DÉCOR GUIDE
FURNITURE
There has been a lot of hype and fascination about French vintage furniture;
Rightfully so because these items are rear and bring a certain standard of individuality as well as class to any interior they are placed in.
Plus, they are incredibly affordable for the quality they offer.
However, It is absolutely important to get it right. Because unlike average second-hand shopping; You are not looking for any kind of used furniture. But are more specific on an Era or Design movement.
Look for items between 30-40 years old. Anything more than 100 years old is antique.
Also, the piece should be an example of what defined a particular style of that period for it to earn the title of vintage.
It's not a necessity for these items to belong to a well-known brand or manufacturer. It just has to exhibit the best characteristics of that era.
Find out more on how to shop vintage furniture and what to look out for here. But in a nutshell look for quality, good bones, and gently used furniture to get the most out of your bargain
You can check out these brands online if you are new to this and don't have any idea where to start
Keep it simple, functional as well as comfy. But also stunning. To nail this look.
VINTAGE LIGHTING
Vintage French lighting is reminiscent of a time when everything was created with care and great attention to detail; These fixtures are often better made than new fixtures and are distinctively unique. Making them the ideal choice to transform any interior into a dreamy, sophisticated haven.
However, when it comes to this kind of lighting; One needs to take careful consideration of the aesthetic of their home. As well as functionality or the purpose they intend to use the light for.
Despite the fact that this type of lighting is often referred to as classic. It is still subject to fashion and trends. Therefore certain styles may not be applicable in our current modern interiors.
But if you do find the right fit; Make sure the wiring is compatible with that of your country before you invest. And also check that it is not dried up or brittle as this can be a potential fire hazard.
Shop and learn more about the history of vintage/antique lights here.
VINTAGE ACCENT DÉCOR AND ACCESSORIES
These accessories speak flair. And are a charming way to showcase your personality, great taste as well as a sense of style.
Just take your time to choose well; It can be anything from a stash of vintage old books just hanging out on your bookshelf or a collection of vintage french baskets to decorate your entryway. These accessories can be both an elegant statement and be functional all at the same time.
Here are some tips to help you incorporate French vintage antiques into your décor
Use antique French iron pieces as planters inside or outside on your deck/balcony to give a more balanced aesthetic;  Fun Fact: These were intended to adorn European palaces and gardens of wealthy Roman clients in the 17th  Century. Talk about royal elegance!
Hang antique mirrors, oil paintings, or old portraits instead of photographs when it comes to this style. The French are known for being well cultured. With their neat art collections and sophisticated interiors. Therefore to nail this look; One needs to tap into their artistic side. And start collecting some meaningful art. Don't worry, it doesn't take much to start your very own little gallery. You just need two or three artworks that speak to your style narrative. Then you are well on your way.
Create some romance in your bedroom with a beautiful antique chandelier. To set the mood for that perfect self-love hideaway. A little me time in a beautifully curated space is all we need in these crazy times. That and a luxurious vintage tub to soak in with a good book after a long day.
Re-purpose and re-use objects like an antique Amoire as a TV unit even an old chest of drawers as a bar. This is unexpected; And will definitely get your guests talking.
There you have it. The perfect guide to a French vintage elegantly styled interior.